Japan Confirms Tariff Increase on U.S. Frozen Beef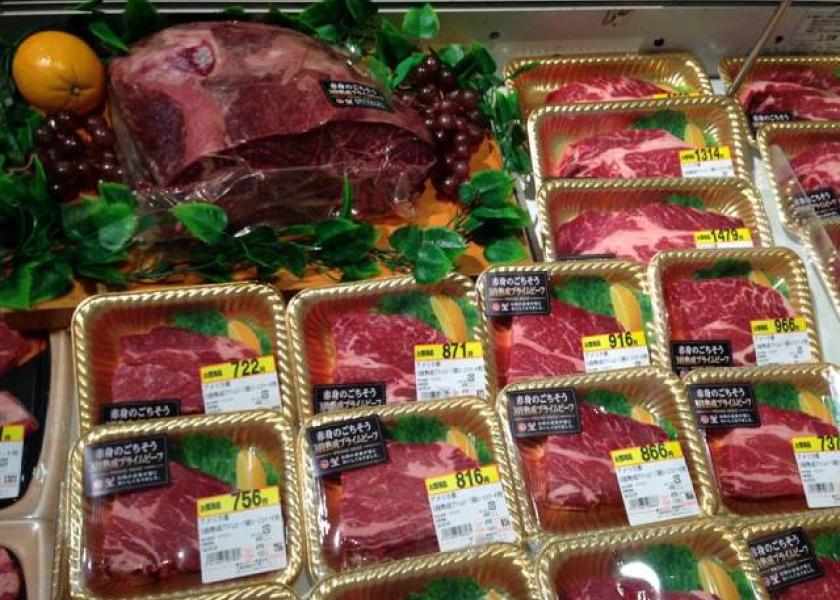 Japanese officials confirm rising imports of frozen beef in the first quarter of the Japanese fiscal year (April-June) have triggered a safeguard, resulting in an automatic increase to Japan's tariff rate under the WTO on imports of frozen beef from the U.S.  The increase, from 38.5% to 50%, will begin Aug.1, 2017 and last through March 31, 2018.  The tariff would affect only exporters from countries, including the U.S., which do not have free trade agreements with Japan currently in force.
U.S. Secretary of Agriculture Sonny Perdue says he's concerned this increase in Japan's tariffs will affect U.S. beef sales with the country. "This would harm our important bilateral trade relationship with Japan on agricultural products.  It would also negatively affect Japanese consumers by raising prices and limiting their access to high-quality U.S. frozen beef," Perdue says.
"I have asked representatives of the Japanese government directly and clearly to make every effort to address these strong concerns, and the harm that could result to both American producers and Japanese consumers," he adds.
The increase will also have a significant impact on the Japanese foodservice industry," explained Philip Seng, U.S. Meat Export Federation (USMEF) President and CEO.
"It will be especially difficult for the gyudon beef bowl restaurants that rely heavily on Choice U.S. short plate as a primary ingredient. This sector endured a tremendous setback when U.S. beef was absent from the Japanese market due to BSE, and was finally enjoying robust growth due to greater availability of U.S. beef and strong consumer demand. USMEF will work with its partners in Japan to mitigate the impact of the safeguard as much as possible. We will also continue to pursue all opportunities to address the safeguard situation by encouraging the U.S. and Japanese governments to reach a mutually beneficial resolution to this issue," Seng says.
Earlier this month, Creekstone Farms, the Arkansas City, Kan.-based packing company with $550 million in sales last year, was sold to Japanese trading house Marubeni. Many industry leaders believed Japan was looking to target the Chinese beef market. Creekstone, the 12thlargest U.S. packing firm, was owned by private-equity firm Sun Capital Partners. A Japanese news source reported the deal to be worth $170 million.
National Cattlemen's Beef Association (NCBA) President Craig Uden says, "We're very disappointed to learn that the tariff on frozen beef imports to Japan will increase from 38.5% to 50% until April 2018. Japan is the top export market for U.S. beef in both volume and value, and anything that restricts our sales to Japan will have a negative impact on America's ranching families and our Japanese consumers."  
"NCBA opposes artificial barriers like these because they unfairly distort the market and punish both producers and consumers. Nobody wins in this situation. Our producers lose access, and beef becomes a lot more expensive for Japanese consumers. We hope the Trump Administration and Congress realize that this unfortunate development underscores the urgent need for a bilateral trade agreement with Japan absent the Trans-Pacific Partnership," he adds.
Japan was the top export market for U.S. beef, valued at $1.5 billion in 2016. According to data compiled by the U.S. Meat Export Federation, first quarter U.S. beef sales to Japan increased 42 percent over 2016. In addition to the United States, the 50 percent safeguard tariff also applies to imports from Canada, New Zealand, and other countries that do not have a free trade agreement with Japan