Insurance Covers $600,000 in Bills After Toddler's Brush With Death
According to a recent Farm Journal Pulse, 20% of farmers don't have insurance because it's too expensive or for another reason. Another 24% have coverage but say it's minimal or catastrophic only.  
In 2016, Illinois farmer Matt Bennett took a hard look at his family's health insurance premiums and coverage. After careful consideration, he opted for a health sharing program.
You might recognize the name Matt Bennett. We've used him in several articles and on TV for his marketing expertise. A few weeks ago, while chatting with Matt, we started discussing the challenges of health insurance. He shared about his daughter's near-death experience and how the family's alternative health insurance paid more than $600,000 in medical bills. (Learn more about their health sharing plan at the end of the article.)
The deadline to enroll in traditional health insurance is Dec. 15. However, enrollment for health sharing programs can occur at any time in the year.
Each beep came in rapid succession—Abileen Bennett's heart monitor clocked in at 150 to 170 beats per minute. While she slept, Matt and Tiffany Bennett, her parents, anxiously watched the monitor and prayed for a miracle to deliver their 2-year-old from the clutches of death.
Just days after returning home from showing cattle at a fair, Abileen started showing signs of a severe stomach bug. Her symptoms continued past the 24-hour mark and Tiffany grew extremely concerned. Aside from normal symptoms, Abileen endured contractions, as her less than 20-lb. body tried to force the then-unknown toxins to leave.  
"Her level of pain was unlike anything I've ever seen in one of my children," explains the mother of five. "She would honestly bear down like a woman in labor, draw up her knees and rock during the contractions. As soon as they were done, she could sleep until another one hit."
From that point on, it was all hands on deck to find out what was wrong with their daughter. Tiffany was cautious—which just might have saved Abileen's life—and took a stool sample to the doctor's office. The doctor quickly directed Tiffany to take Abileen to the emergency room where she was later moved, by ambulance, to a bigger hospital in Peoria, Ill.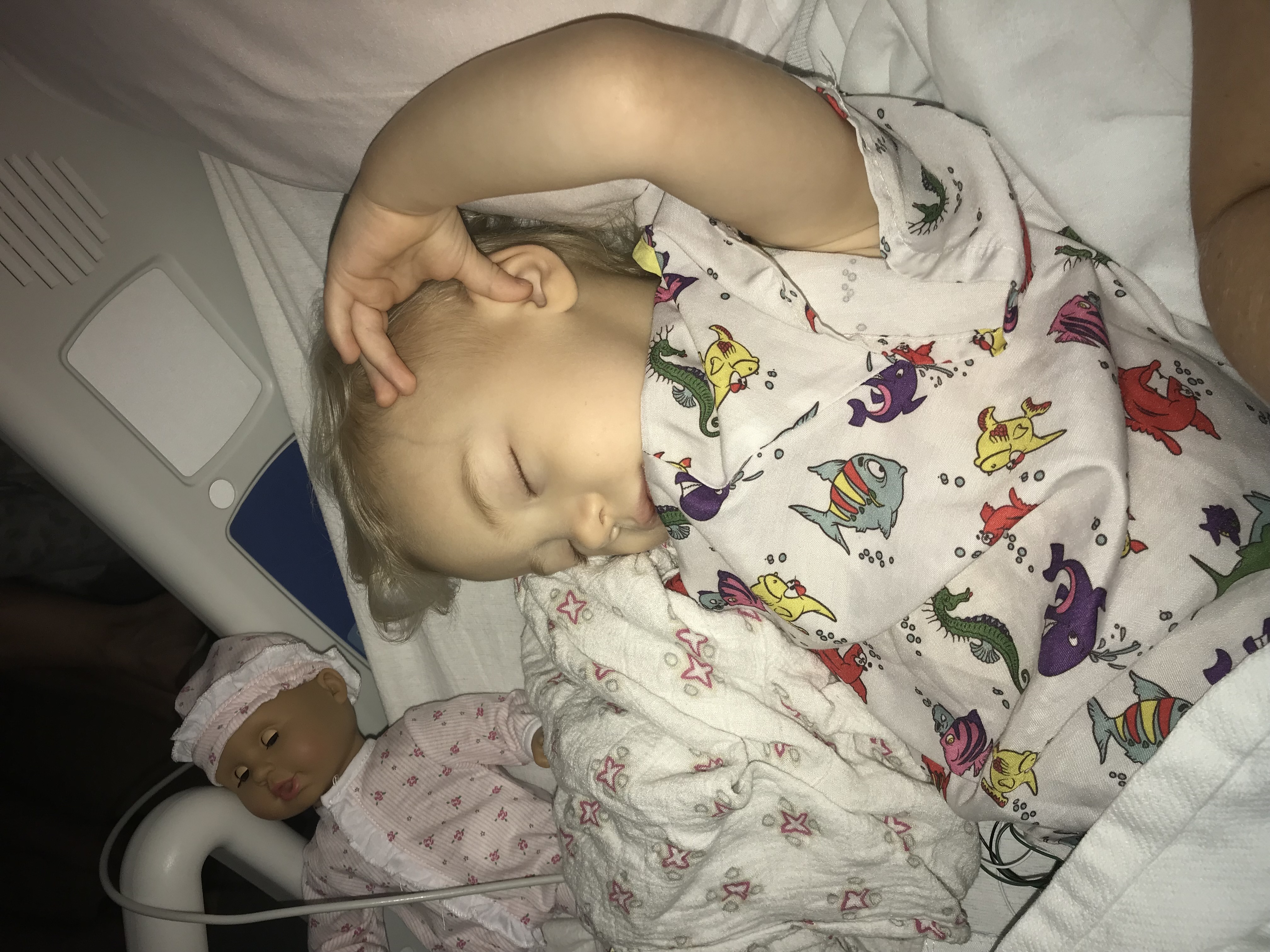 A long hospital stay is challenging for any family, but for 2-year-old Abileen Bennett it was especially taxing. Fortunately, her family acted quickly after she started showing odd symptoms, a move that would save her life. C: Tiffany Bennett
While all of this was going on, Matt, a commodity broker and farmer, was 687 miles away, or 10.5 hours, in Fargo, N.D. preparing to speak to farmers and salespeople the next day. At 2 a.m., when he received the call that Abileen was going to Peoria and could face surgery, he immediately started driving.
"I just got in the car and started driving—it was a no-brainer to leave," Matt says. "I maybe stopped twice between Fargo and Peoria."
Once Tiffany and Abileen made it to Peoria, doctors realized their original assumption, intussusception, was wrong. However, the culture from her stool sample came back the next day and confirmed a parent's nightmare: Abileen had E. coli O157:H7, which can lead to further complications and even be fatal.
There are more than 700 serotypes of E. coli; O157:H7 is particularly dangerous because it's shinga toxin-producing. That means it can severely damage the lining of the intestines and kidneys and, in rare cases, lead to serious complications such as Hemolytic Uremic Syndrome (HUS), according to the Minnesota Department of Health (MDH). HUS can be fatal if it's not caught in time; it destroys red blood cells and causes kidney failure.
No one ever thinks something such as near-fatal E. coli poisoning can happen to their family—until it does.
"I was always the type of person that if something drops big deal, pick it up and eat it,
 Matt says. "But living on farms we have to understand that little ones don't have the tolerances we do, so we need to be aware when our kids are in the barn or what's on their hands and could go in their mouths."
There are more than 700 strains of E. coli bacteria—not all are harmful, but the ones that are can be deadly. It's common to find the bacteria around farm animals, especially healthy cattle, in raw milk, in raw or undercooked meat or if water from lakes, rivers, streams, ponds or shallow wells is ingested, according to MDH.
It typically takes two to five days for illness to begin after ingesting the bacteria. The most noticeable symptom is diarrhea that starts watery and turns bloody in one to three days, according to MDH.
More Complications
Unfortunately for the Bennett family, Abileen was a rare case and not only had to fight the E. coli ravaging her body, but HUS, too. With each of these conditions there's no treatment. Antibiotics only strengthen this strain of E. coli and the HUS has to run its course.
"Since there is no treatment, we just had to watch as they kept her body going until the disease left," Tiffany says. "It was heartbreaking."
After doctors learned what was going on inside her body, Abileen endured multiple surgeries, blood transfusions, dialysis and blood draws as frequently as every two hours to monitor her progress. She was in the hospital for 20 days. Tiffany never left Abileen's side, and Matt only did to check on three of their other children (the fourth was away at college).
"The kids were struggling with it, especially Toby who was six at the time," Matt says. Not only did they miss their mom and dad, the reality was hitting them that something was very wrong with their baby sister.
The kids weren't the only ones worried, though. Matt and Tiffany eventually took to social media, namely Facebook and Twitter, to ask for prayers from family and friends. Little did they know, support would come from around the globe.
"Thousands of people shared her story," Tiffany says. "We heard from people in India, the Netherlands and South Africa—people were writing to me who I didn't even know … it was unbelievable."
"I know social media sometimes gets a bad rap," Matt says, "but when you go through something like this and see so much support from people it just helps. People don't realize how big of a difference it makes when they take a little time to reach out and show support."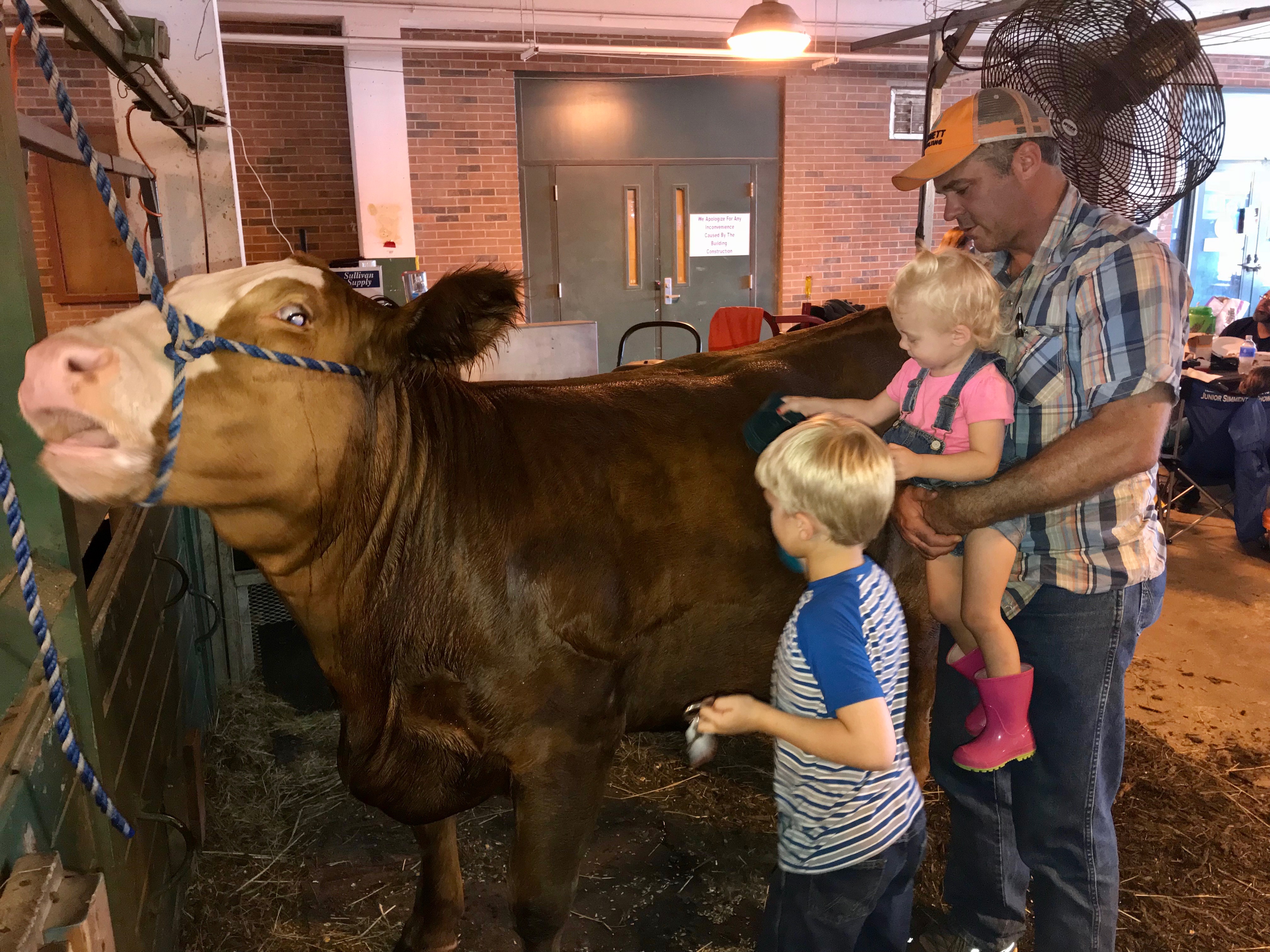 The family suspects Aibleen picked up E. coli while they were showing cattle at a fair. E. coli is in all healthy cattle and doesn't hurt them, only humans. C: Tiffany Bennett
Finally, after three weeks in the hospital, Abileen was given the green light to go home.
"Our faith got us through this, and we finally went home on Sept. 2, just in time to celebrate Matt's birthday on the 4th," Tiffany says. "It's the best present we could have asked for, and we thank God for his faithfulness in bringing her home."
Matt and Tiffany will never know for sure when Abileen ingested E. coli bacteria. Their best guess is she accidentally ingested it when she found a cracker on the barn floor at the fair and put it in her mouth before anyone could stop her.
There are ways to prevent E. coli O157:H7, the more dangerous strain, according to MDH:
Use good hygiene and sanitation practices on the farm to lower E. Coli O157:H7 levels (it will not completely get rid of them).
Design feeders and waterers to keep manure out.
Treat sick animals promptly, with the assistance of a veterinarian.
Wash your handy regularly or use hand sanitizer if a sink isn't available.
Don't eat where animals are housed.
Dedicate certain clothes and shoes to areas with livestock feces; leave them there instead of carrying it into your home.
Keep house pets away from livestock areas.
However, E. Coli O157:H7 doesn't only exist on farms and around livestock. Children can contract it at daycare, restaurant floors or a number of other places. E. Coli O157:H7 is the same strain found in the romaine lettuce recalls and at Chipotle restaurants that lead to several deaths.
Abileen will see the kidney doctor until she is at least 18 and could develop high blood pressure as she grows. But if you saw her today, you would never guess she had a brush with death.
Running at full speed, 3-year-old, blonde-haired, blue-eyed Abileen asks "Mom, mom, can we make cookies tonight?"
With a shrug and a smile, Tiffany responds, "of course." For Tiffany and Matt each bubbly outburst, giggle, cooking-making request and even tantrums are moments they cherish.
"Tiff and I are very aware we're blessed and very fortunate when not everyone is," Matt says. "We don't take it lightly."
Mountains of Medical Bills
While the Bennett family is ecstatic Abileen pulled through, the reality is her hospital stay racked up a pile of bills. In total, they owed more than $600,000 before cash-pay deductions to each of the hospitals and clinics that cared for Abileen.
In 2016, Matt and Tiffany carried "normal" health insurance. For the self-employed family, it cost $2,200 in premiums each month, and deductibles and out-of-pocket expenses meant they paid more than $35,000 that year for health insurance and medical bills. That was the year Abileen was born, and the year they decided enough was enough and it was time to do something different.
"We're on a health sharing plan—technically we don't have insurance," Tiffany says. "It's incredibly cost effective at $535 per month for the whole family. It's called Samaritan Ministries and they were phenomenal throughout this process."
They also chose a "major medical"-type option for an extra $30 per month. The base plan only covers "incidents" up to $250,000 but the extra $30 per month guarantees them total coverage of expenses.
To date, they haven't spent a dime on Abileen's treatment.
"There's going to be some give and take with a cheaper cost, but for us it was a no-brainer," Matt says. He does advise farmers to do their research and ask questions such as:
Are any preexisting conditions excluded from coverage?
What is the maternity policy?
What is the cap per incident?
Is there a "major medical"-type program?
What is the monthly payment?
---
Read more about health insurance options here: