Western States Unite to Keep Feral Pigs from Crossing U.S.-Canada Border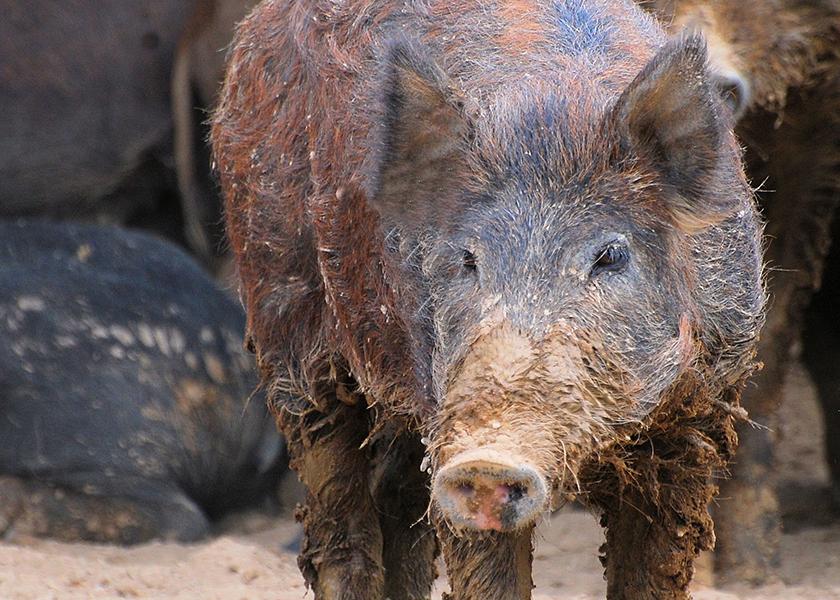 Invasive species councils in Montana and Washington are serious about preventing Canadian feral pigs from crossing into the western United States. 
The Montana Invasive Species Council and Washington Invasive Species Council formed a large working group in early 2020 that consisted more than 40 federal, state and Canadian feral swine experts, reports the Daily Inter Lake.
Throughout 2020, the two councils discussed the challenges and opportunities to prevent the animals from crossing through interstate and international borders. In December, the group published a report with recommendations that address five strategic areas of feral swine management: coordination, monitoring, reporting and notification, response, and control and management.
As wild pig populations expand in the western provinces of Canada and in the U.S. and African swine fever (ASF) continues to rage throughout the world, it's more important than ever to ramp up measures to keep wild pig populations down. 
One study from the University of Saskatchewan says these feral pigs have, on average, increased in their area by 5,400 square miles per year over the past decade. In total, experts estimate more than six million feral hogs exist in North America, the article said.
According to Ryan Brook, an associate professor at the University of Saskatchewan who studies the reproductive ecology of wild pigs, there are a lot of alarm bells going off in a number of places across the entire Canada-U.S. border. That boundary is a high-risk area for movement, Brook said.
These Canadian wild pigs are stacked up very close to the border.  
"This is a real opportunity to be proactive rather than reactive," Brook said. "Waiting for a problem (God help us all if ASF ever did show up), and then sort of scratching our heads saying, 'Geez, I wonder if we should start to do something about these pigs.' That's way too little way too late."
The Montana and Washington Invasive Species Councils are determined to bring light to the threat feral pigs pose.
"Feral swine don't respect international borders or jurisdictions," said Justin Bush, coordinator of the Washington Invasive Species Council, in the article. "This process [creating the new report] brought everyone in the neighborhood together to address this important issue."
The final report details 22 recommendations, including expanding monitoring networks by partnering with non-traditional organizations such as hunting groups and formalizing notification protocols for reports that will be shared between state and provincial authorities along the international border. The report also encourages authorities to respond to confirmed sightings within 48 hours "with a goal of eliminating the entire sounder."
The Montana Legislature passed a bill in 2015 banning feral swine and designating the Department of Livestock as the primary agency responsible for responding to reports of feral swine. Prohibitions include importing, transporting, or possessing live feral swine, or hunting, trapping or killing them.
Although some believe hunting seems like a good option, a 2020 report from Montana Assistant State Veterinarian Tahnee Szymanski, noted "due to reproductive efficiency and movement behavior, feral swine cannot be eradicated by simple hunting practices." The study explains that hunting pressure that fails to eliminate all animals in a group (leaving a 'sounder') can result in further dispersion.
In 2019, the Montana Invasive Species Council launched the "Squeal on Pigs" campaign which created a single point of contact to simplify reporting and to ensure sightings reach the agency responsible for responding.
The Daily Inter Lake reports that the Saskatchewan government, the Alberta Invasive Species Council, the Manitoba and British Columbia governments and the Canada Wild Pig Initiative have already, or are in the process of, adopting the Squeal on Pigs campaign. The western states of Idaho and Washington have followed Montana's lead.
Read more about the wild pig problem in Canada here.
More from Farm Journal's PORK:
Can You Really Trap Feral Pigs with Your Cell Phone?
Feral Swine: USDA Monitors World's Worst Invasive Alien Species
How Colorado Eliminated Feral Hogs
Feral Hog Stomachs Tell Story of Destruction
Montana Puts Plan in Place to Keep Canadian Feral Hogs Out