Farm Bill an Early Christmas Present for Cattlemen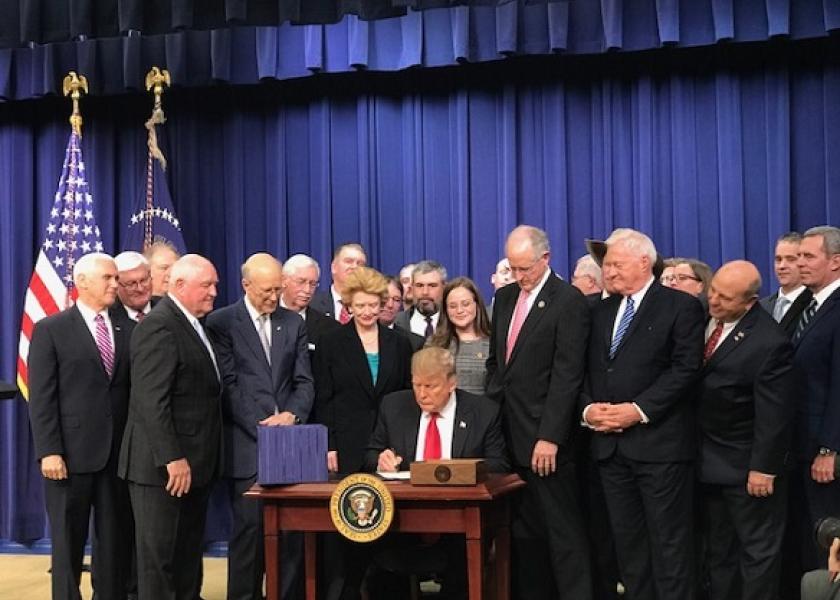 Now that the farm bill has been signed by President Trump beef groups are celebrating an early Christmas gift for cattle producers.
The final bill was signed by President Trump on Dec. 20 in front of a crowd of Senators, House Representatives, USDA staff and agriculture association leaders.
"We're here to celebrate a really tremendous victory for the American farmer, ranchers, agriculture — incredible people — by the signing of the 2018 Farm Bill," Trump says.  "We've been working long and hard on this one."
Several cattlemen's groups have been happy with how the farm bill came together for their associations. At the farm bill signing ceremony the National Cattlemen's Beef Association (NCBA) was represented by Kevin Kester, fifth-generation California rancher and president of the group.
"It is an exciting day for cattle producers and I was honored to be at the White House for the signing ceremony. The 2018 Farm Bill is now law and producers will have the certainty they need going forward," Kester says.
Establishment of up to three regional centers to be known as "Cattle and Carcass Grading Correlation and Training Centers" and clarification to the Emergency Assistance for Livestock, Honey Bees, and Farm-Raised Fish program were applauded by the U.S. Cattlemen's Association (USCA).
"We'd like to extend our sincere thanks and appreciation to Senate Agriculture Committee Chairman Pat Roberts and Ranking Member Debbie Stabenow; and House Agriculture Committee Chairman Mike Conaway and Ranking Member Colin Peterson and all of their staff. Delivering a farm bill, on-time and with needed resources for our farming and ranching families, is no small task," says USCA President and North Dakota rancher Kenny Graner.
A primary area of the farm bill that gained the support of many state and national cattlemen's associations was the National Animal Disease Preparedness Program and National Animal Vaccine Bank. This piece of the legislation secures $300 million in funding for programs like a foot and mouth vaccine (FMD) bank and requires a study for USDA Food Safety and Inspection Service more effectively conduct outreach with small meat packers.
"NCBA was pleased to see authorization of a new FMD bank. The FMD bank will provide critical protection to rural economies, and we look forward to working with Secretary Perdue and Congress to address future funding needs," Kester says.
"The farm bill offers crucial certainty for Iowa's cattle producers and farmers. We are encouraged to see Iowa Cattlemen's Association's (ICA) priorities addressed, including authorization and funding of a FMD vaccine bank, investment in trade promotion and market access, and reauthorization of key conservation programs," says David Trowbridge, ICA President.
The Texas and Southwestern Cattle Raisers Association (TSCRA) was thankful to House Agriculture Chairman Mike Conaway (R-TX) for his leadership in moving the bill forward.
"The legislation retains many of the hard-fought provisions that were essential to cattle raisers, including authorization for a FMD vaccine bank and enhancements to important conservation programs such as the Environmental Quality Incentives Program," says Robert McKnight, Jr., president of TSCRA.
The farm bill also has a number of provisions that will aid U.S. producers in staying competitive on the internals stage, according to the U.S. Meat Export Federation (USMEF).
"One important aspect of the bill is its continued support for international promotion of U.S. agricultural products, as the bill maintains funding for the USDA Market Access Program and the USDA Foreign Market Development Program. Support from these programs is an important tool for expanding global demand for U.S. pork, beef and lamb, as well as many other U.S. products," says USMEF President and CEO Dan Halstrom.