Cattle Expansion to Slow in 2019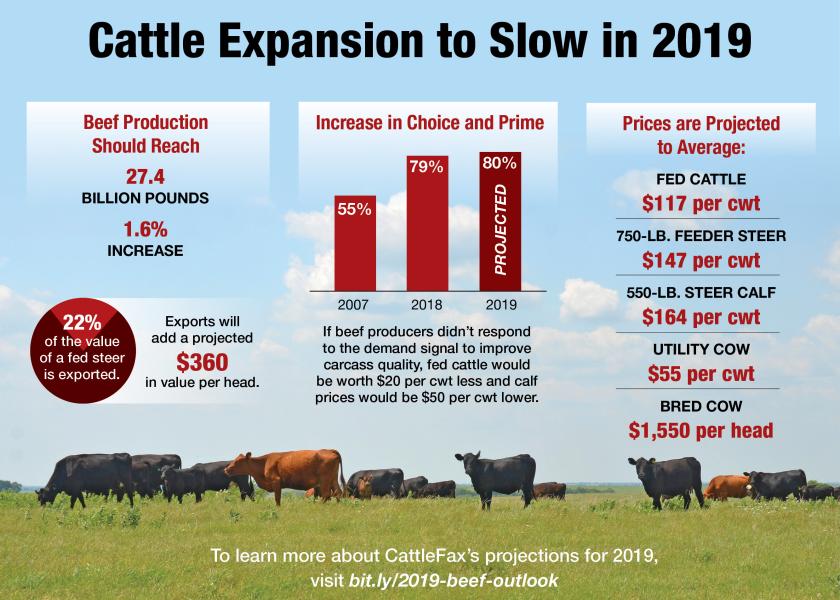 In the U.S., cattle cycles traditionally occur about every 10 years with cattle numbers increasing or decreasing during market swings. However, from 1996 to 2013 the cattle cycle was drawn out, says Kevin Good, vice president of industry relations with CattleFax. "We liquidated in 16 of the 18 years because of prolonged drought," he adds.
Moisture conditions have improved the past few years, which have fueled rebuilding of the beef cowherd.
During the past five years the total beef herd has grown by about 6.5 million head, which breaks down to 3 million more beef cows, 1.5 million additional cattle on feed and another 2 million feeder cattle and calves outside of feedlots.
"We've had a pretty big updraft, as far as numbers, but fortunately demand has stayed strong and trade has stayed strong, so prices are still at a level that keeps the bulk of producers profitable," Good says.
CattleFax projects the rate of expansion to slow from 510,000 beef cows added in 2018 to 180,000 cows in 2019 and another 100,000 cows in 2020. By 2021, the rate of expansion is expected to be flat.