Beefing Up Down Under: Aussies Find New Boom in China Demand
In the restaurants of Beijing and Shanghai, patrons are asking where's the beef.
The question is proving a boon for Aussie ranchers like Sam Burton-Taylor, who is shipping ever-larger quantities of meat to satisfy the voracious appetite of China's growing middle class.
Australian beef sales to China surged six-fold in three years to a record A$917 million ($651 million) in 2015, data from Meat & Livestock Australia show. The volume of beef shipped to China rose more than four times over the same period while the price received for the exports has jumped 37 percent in the past 12 months.
While earnings from meat, which totaled A$15 billion last year, aren't about to eclipse those from iron ore, the export boom signals Australia is successfully transitioning away from mining. Just as a sharp increase in demand from China for iron ore pushed up prices for the metal to a peak in 2011, so now is the Asian behemoth's shift toward consumption pushing up prices for beef.
"As countries get richer, their diets change and they prefer higher quality food products, and I think that's a big part of the beef story," said Paul Bloxham, chief Australia economist at HSBC Holdings Plc. "We think it's still got further scope to pick up. There's still a lot more people to enter the middle-class in China and preferences are shifting quite quickly."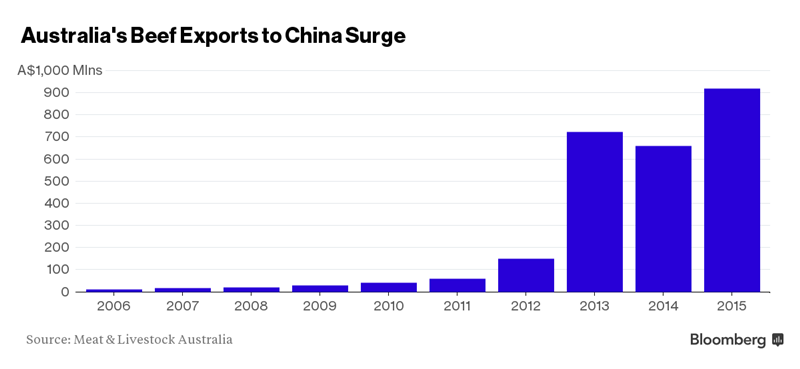 Food Safety
Farmers like Burton-Taylor at his Kenny's Creek property are capitalizing on Australia's reputation for high-quality produce at a time of dwindling trust among Chinese citizens in the safety of their own food. Scandals ranging from babies poisoned by tainted milk powder to dead pigs found floating in a river regularly remind Chinese consumers that the produce they eat might not be safe.
"The long-term prospects for exports are strong, but we are naturally mindful that beef producers in Brazil have started to compete more aggressively," said Burton-Taylor, who sells meat from his property outside Canberra to restaurants in Beijing and Shanghai. Competing with Brazil to sell commodities to China is nothing new for Australia -- the two nations are key suppliers of iron ore as well. 
The Chinese are also changing their diet. For centuries China's favored meat has been pork, partly because backyard pigs not only supplied meat, but were good at turning waste into manure. Until recently, beef -- once known as "millionaire's meat" -- was very rare.
California Drought
Australian beef sales to the U.S. also soared last year as drought gripped California and depleted livestock there. In the past three years sales to the U.S., the biggest buyer of beef from Down Under, have almost tripled to A$2.9 billion.
"The U.S. continues to yield a great return for beef producers with the bulk of the product being lean grinding meat, which is often used in hamburgers," said Michael Finucan, general manager international markets at Meat & Livestock Australia. "We are also seeing a substantial pick up in the sale of high quality grass fed beef, which is lean and appeals to health conscious consumers."
Burton-Taylor, who was raised on a farm, studied accounting and worked in business before returning to the land, said he visited China more than a dozen times to secure buyers.
Cattle Class
The potential for further sales is enormous. China will eat an extra 2.2 million tons of beef a year by 2025, according to Rabobank -- enough to make 19 billion quarter-pounders. Some producers in Australia are even loading cattle on Boeing Co. 747 cargo planes and flying them to China in order to meet regulations that require imported live animals to be slaughtered close to their point of entry.
"The Chinese economy is transitioning just as ours is," Australian Treasurer Scott Morrison said in Parliament Tuesday when commenting on surging beef exports to China. "That means so many more Chinese moving into the middle classes and creating new opportunities for exports of services and other goods and products, which will continue to drive growth and jobs."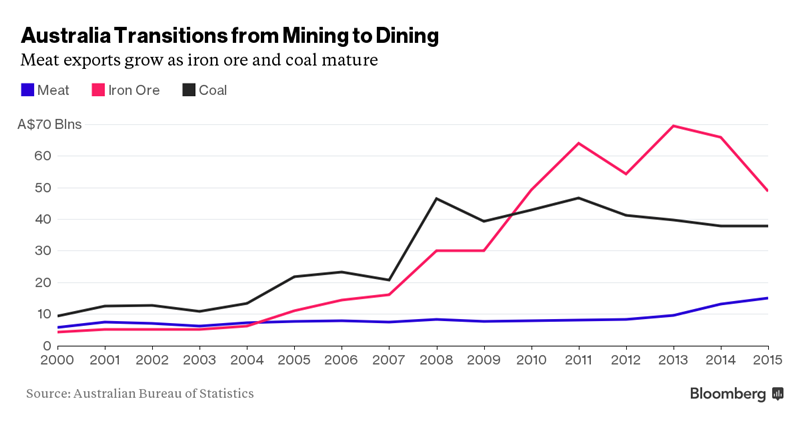 While businesses like Burton-Taylor's are a step toward Australia's ambition of becoming a food bowl for Asia, analysts note that meat isn't a substitute for minerals. Iron ore exports earned the country A$49 billion in 2015 while coal sales were A$38 billion.
"Australia's beef and agricultural exports are unique in terms of the income from the volume and demand as well as the high quality of the produce," said Ben Jarman, an economist at JPMorgan Chase & Co. in Sydney. "But while meat exports have been impressive, when taken as part of the overall agriculture category they still only represent about one-third of the value brought in by the likes of iron ore and coal."