Sustainability Partners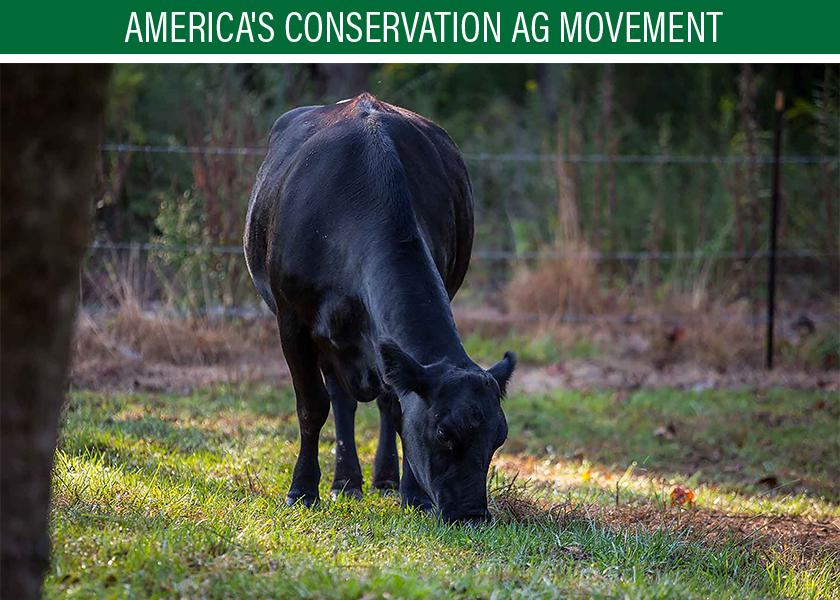 Building trust in food begins with empowering farmers through one of the largest and most diverse conservation- and sustainability-focused public-private partnerships in our nation's history: America's Conservation Ag Movement. To find the latest news and resources related to the Movement, visit AgWeb.com/ACAM.
---
Consumers are constantly fed a stream of anti-livestock information calling for changing diets and an overhaul of food production. A recent report from the Intergovernmental Science-Policy Platform on Biodiversity and Ecosystem Services, for instance, says policy makers should tax livestock as well as meat consumption to reduce the risk of future deadly pandemics. 
Such views are often cited by media who champion change in America's diet. A New York Times article last month suggested that changing what cattle eat could have a significant effect on emissions of greenhouse gasses (GHGs) "like methane that are warming the world."
That assertion is in direct conflict with research, says University of California, Davis scientist and air quality expert Frank Mitloehner. Of the approximately 50 gigatons of global GHGs, the U.S. is responsible for about 12% of the total, and the entire animal sector in the U.S. contributes "half of 1% of global GHGs," he says. That's not the devastating impact to global emissions activists claim.
However, he says U.S. cattle producers must recognize the importance of the discussion on GHGs.
"Many of your customers make it important," Mitloehner told members of the Texas Cattle Feeders Association in a virtual presentation. "Whether you individually believe the climate is changing, or whether you believe that has anything to do with it, the society you operate in and the customers that you serve say this is critically important (to them)."
Indeed, many of the largest companies in the beef chain have made sustainability a key objective in their corporate strategies. As Mitloehner notes, consumers "want to have beef delivered to (them) that has a lower carbon footprint than it has today."
One company committed to sustainability and ensuring cattle producers are viewed positively is Elanco Animal Health, which last month issued three Healthy Purpose Pledges to drive change by 2030. Those include:
Protein Pledge: Create more resilient food systems by enabling 57 million more people to access their annual nutritious protein needs.
Planet Pledge: Remove 21 million tons of emissions from customers' farms while reducing the company's own impact on the planet.
Pet Pledge: Improve the world's well-being by helping at least 100 million healthy pets help people.
"At Elanco, we believe we have the opportunity and responsibility to help tackle key societal challenges," says Jeff Simmons, president and CEO at Elanco. "Elanco's Healthy Purpose sustainability commitments, the first of its kind in the animal health industry, advances the world's well-being while supporting and strengthening our own business."
While Elanco is not directly involved in the production of beef, the company can have a huge impact on efficiency and reducing beef's carbon footprint.
"The things we do to improve animal health translates into productivity," says Sara Place, Elanco's chief sustainability officer. "By reducing losses we help improve access to 57 million more people."
Data from the United Nations Food and Agriculture Organization (FAO) suggests 20% of animal production globally is lost due to disease.
"That's a big impact," Place says. "Additionally, we want to have a positive impact by reducing animal stress. Reducing animal health instances means better yields, whether that's milk production per cow or eggs per chicken or beef. That helps improve production because the animals are in a healthier state."
While U.S. operations are far ahead of most global livestock producers on the sustainability scale, Place says that should be touted as an attribute.
"There's a lot the U.S. beef industry can be proud of, and sustainability is not something of which to be scared," she says. "One of the key words in our pledge is about being a resilient food system. Where beef can really shine is in the integration of grasslands — that is such a huge asset to the beef industry." 
Some corporations have launched sustainability partnerships toward a common goal. They see cross-industry collaboration as crucial to meeting the global demand for protein while also addressing climate change. Last month the Walmart Foundation, Cargill and McDonald's announced an investment of over $6 million in an initiative led by the World Wildlife Fund that aims to make lasting improvements to the grasslands of the Northern Great Plains.
Known as the Ranch Systems and Viability Planning (RSVP) network, the program will support ranchers across the ecoregion — focusing primarily on Montana, Nebraska and South Dakota — with technical expertise, training and tools to help advance grazing practices that improve the health of the land. By improving management of one million acres over five years, this effort will result in increased carbon storage and sequestration, improved water infiltration and better outcomes for biodiversity.
Earlier in 2020, Cargill launched BeefUp Sustainability, an initiative committed to achieving a 30% greenhouse gas (GHG) intensity reduction across its North American beef supply chain by 2030. The opt-in initiative will reduce GHG emissions throughout Cargill's beef supply chain from a 2017 baseline, measured on a per pound of product basis. The 30% reduction builds on the industry's existing GHG efficiency efforts and will equate to removing 2 million cars from U.S. highways for a year. 
"This initiative builds on the strong environmental stewardship work already led by farmers and ranchers," said Jon Nash, who leads Cargill's North American protein business.    Ranchers who participate in Cargill's BeefUp Sustainability will find benefits to their own businesses, says Heather Tansey, Cargill's sustainability lead for protein and feed.
BeefUp Sustainability "is something we want to build together with producers who are interested," Tansey says. 
Ranchers participating in the RSVP network, for instance, could benefit from Cargill in the form of a cost-share or technical assistance and tools. 
"They may also benefit on their own from greater soil health, greater productivity in the grasslands, and in the ability for their ranch to be more drought-tolerant," Tansey says. 
Whether it's Cargill, Elanco, McDonald's or Walmart, corporations are signaling their willingness to work with cattle producers. 
"By working with ranchers we're making progress toward our purpose as a company, and we're helping demonstrate how we work with our supply chain to reduce the climate impact of beef," Tansey says.