Deadline Extended—Drovers Photo Contest: How Do You Utilize Utility Vehicles on Your Ranch?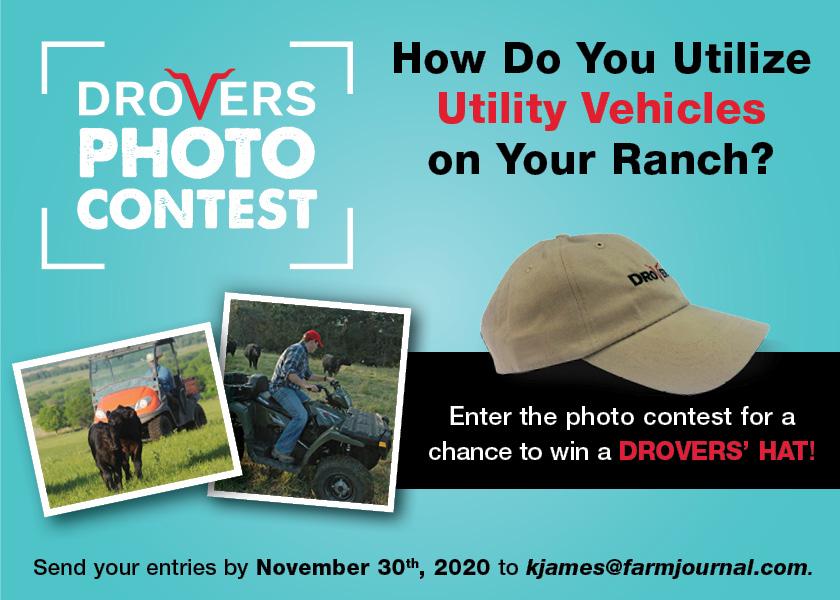 Deadline Extended! Send in your photos by December 11!
Your utility vehicle is an essential piece of equipment on the ranch. From transporting feed and supplies to making the rounds to check the fields go quicker, it has a myriad of uses. How do you use it? Send in your best photos for a chance to win 1 of 3 Drovers baseball hats.
To enter, email your ATV or UTV action photos to kjames@farmjournal.com by November 30. We'll post the collection on Drovers' Facebook page the week of Dec. 14 for voting by your peers.
The top 3 entries with the most likes/reactions will win a Drovers baseball hat and be featured in a Drovers.com article with the top 10 winners.
Please submit your entry with  this photo release that grants Drovers permission to display it in the Facebook gallery and on the website.
*SAFETY PLEASE* While we love encouraging ingenious DIY hacks to make life easier, we can't publicize anything that may be unsafe. Please be sure that you're wearing seatbelts or following other safety best practices in your photos.