Beef + Lamb New Zealand Unveils Multi-Million Dollar U.S. Campaign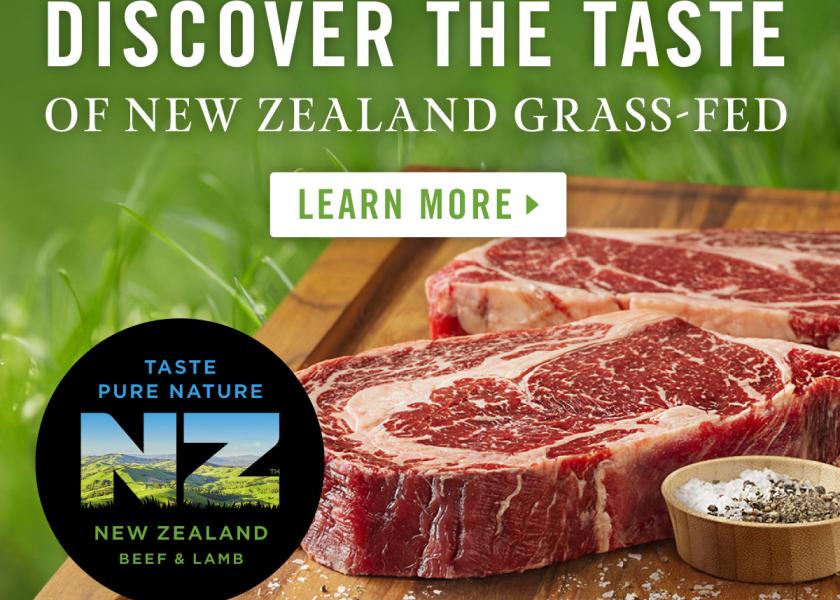 A campaign has been launched in California by farmers from New Zealand to promote grass-fed, pasture-raised beef and lamb.
Beef + Lamb New Zealand, an agriculture group supporting beef and sheep raisers in New Zealand, announced on March 20 it is kicking off its U.S. advertising campaign in California. The producer-led initiative will feature online advertisements, internet video commercials, social media, public relations and a website with recipe information. Beef + Lamb New Zealand plans to spend several millions of dollars on the campaign. 
The campaign will feature grass-fed meat under New Zealand's Taste Pure Nature labeling. The program includes a partnership with New Zealand retail brands:
Atkins Ranch, the largest North American supplier of lamb.
First Light, grass-fed Wagyu beef brand that was recently crowned the gold winner at the World Steak Challenge in London.
The Lamb Company, 100% grass-fed and finished lamb that is Non-GMO Project Verified.
"We are delighted to partner with leading brands and companies from New Zealand to increase consumer excitement and drive discovery for the incredible quality and taste of our grass-fed beef and lamb products," says Andrew Morrison, Chairman, Beef + Lamb New Zealand. "New Zealand sheep and cattle are raised in a farming paradise with rolling green hills surrounded by an expansive ocean and fresh, clean air, and we believe this results in the best grass-fed meat."
New Zealand is a significant importer of beef and veal to the U.S. sending 572,313,000 lb. of beef and veal to the U.S during 2018, according to data from USDA. During that time New Zealand ranked third in beef and veal imports to the U.S. behind Australia and Canada, respectively.
For lamb and mutton, New Zealand ranks second for import totals to the U.S. sending nearly 53 million lb. during 2018. Australia has nearly triple that number in lamb and mutton imports with 149 million lb. last year.