Vilsack Officially Tapped to Return to USDA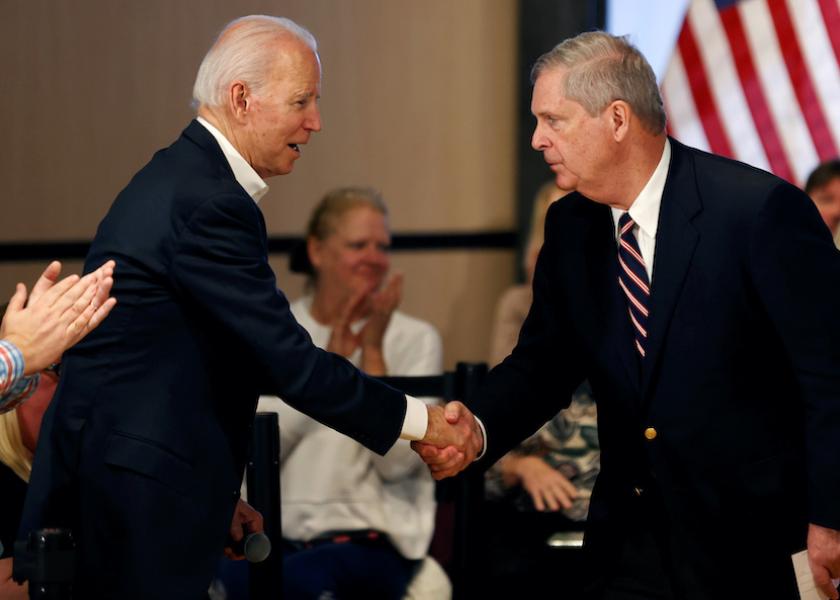 Former Iowa Governor Tom Vilsack has been officially tapped by the Joe Biden transition to return to USDA as Secretary. Vilsack was listed as the USDA nominee on the Biden transition Website Thursday morning.
Vilsack, currently the CEO of the U.S. Dairy Export Council, served as USDA Secretary through both terms of the Obama Administration.
The announcement drew immediate praise from a number of ag groups.
"We congratulate Tom Vilsack on his nomination," said National Pork Producers Council President Howard "AV" Roth. "As both the former governor of Iowa, the top pork-producing state in the country, and the former USDA secretary, he understands how critical a vibrant American farm sector is to the rural and overall U.S. economy, and the importance of keeping consumers supplied with an affordable source of nutritious protein. We look forward to working with him on issues of importance to U.S. pork producers, including expanding exports, strengthening biosecurity at our borders to ensure African swine fever and other foreign animal diseases remain outside the country, and ensuring USDA oversight of gene-edited livestock."
"In his eight years leading the Department during the Obama administration corn farmers appreciated his willingness to listen to the input from growers across the country and his steadfast commitment to agriculture, renewable fuels, our environment and USDA's food and nutrition programs," added National Corn Growers Association President John Linder. "He's been an outspoken advocate for rural America and we look forward to working together again, along with President-elect Biden, to build long-term demand for our product, mitigate the impact of climate change, seek new markets around the globe, and continue to feed and fuel the world."
"Tom Vilsack understands that the agriculture sector is far more complex than most people understand," said American Farm Bureau Federation President Zippy Duvall. "He believes in a 'big tent' philosophy that supports all types of production and understands the importance of respecting farmers and ranchers as partners worthy of support in the race to achieve sustainability goals."
Vilsack served as governor of Iowa from 1999 to 2007.
House Agriculture Committee member Marcia Fudge (D-OH) had lobbied publicly for the position, seeking to be the first African-American woman to serve as USDA Secretary. She was instead tapped to head the Department of Housing and Urban Development.
Further commentary from ag groups on the nomination of Vilsack for USDA Secretary:
"Mr. Vilsack is uniquely suited for the position. Given a combined 16 years serving as the nation's ag CEO and Iowa governor, he will hit the ground running on a host of issues important to soybean farmers. He has a deep understanding of issues impacting agricultural families and the nation's food supply – from trade and biofuels to infrastructure, soil health and water quality." - Iowa Soybean Association President Jeff Jorgenson 
"We congratulate Tom Vilsack on his nomination to once again lead USDA and know that he will hit the ground running. Secretary Vilsack was the most effective advocate the biofuels industry had in the Obama administration and we are excited about working with him again, particularly with helping get the RFS back on track, continued infrastructure support for higher ethanol blends, and making sure farmers and biofuel producers are part of the solution to future policies designed to tackle climate change." – Brian Jennings American Coalition for Ethanol.