Rude Awakening for Crops, Livestock as Plains See Temperature Swing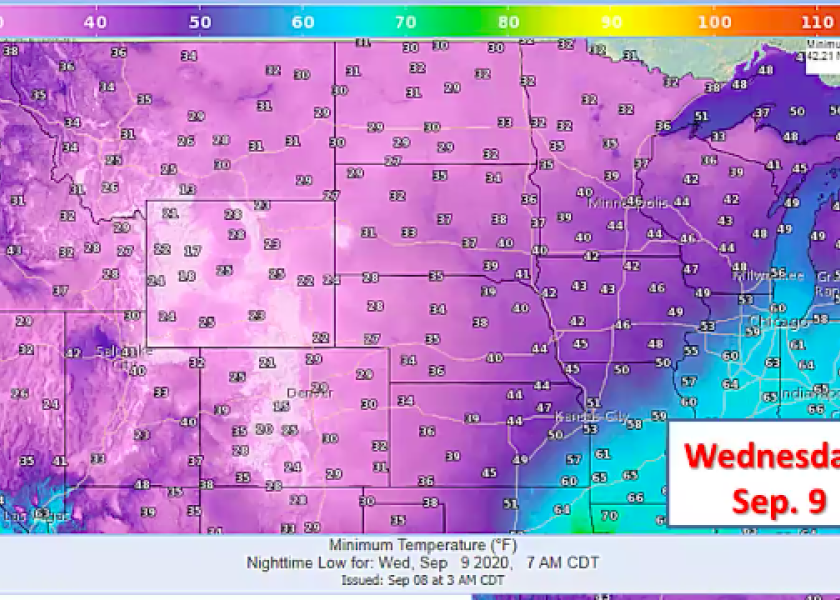 From Canada to Texas, many farmers, crops and livestock have experienced a rude weather awakening—temperatures went from summer to winter overnight.
"It's pretty impressive," says Drew Lerner of World Weather, Inc. "Right now, [the cold front] stretches really from Canada all the way down into Texas. We're going to continue to have this around for the next couple of days, and the odds are pretty good that we will see quite an impact from a livestock perspective, all the way through a lot of crops in the Plains."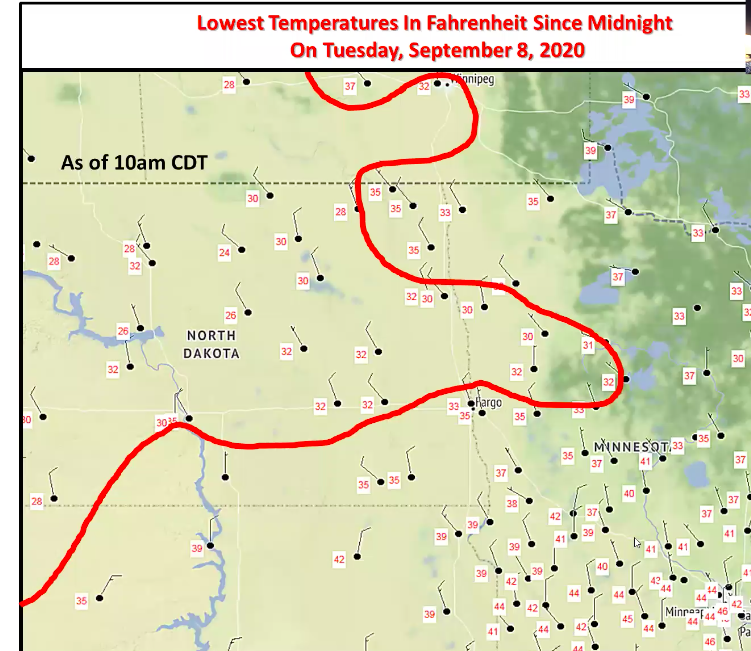 The blast of cold air is forecast to stick around for several days. While growers in the Southern Plains are still preparing for what damage they may potentially see, Lerner says the one thing that may save the majority of crops in the core of the Corn Belt this week is the constant cloud cover also forecast this week.
"This week will bring a lot of rainfall, a lot of cloud cover, which really protects a lot of the Midwest corn and soybean production areas," adds Lerner. "So, I think it'll be a little bit less of a damaging event once you get away from the Plains."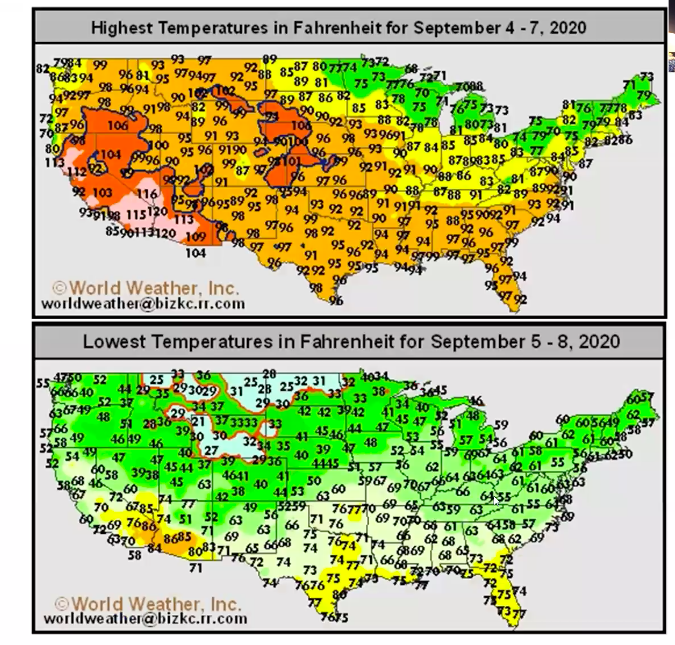 After a return of cold weather Tuesday night into Wednesday morning, he says the damage to crops may be more confined to quality rather than production.
"The exception will be in parts of Canada where damage to coarse grain and oilseeds has been significant," adds Lerner. "There will be some impact to sugarbeets, dry edible beans other crops, but assessing the impact will be slow to come over the next couple of weeks."
Lerner says portions of the wheat crop in the Plains may also sustain damage from the cold. However, livestock producers could see the brunt of the immediate impact. Lerner says the sudden drop in temperatures, and a 70-degree swing in just a matter of a couple days, could be bad news for livestock not ready for the cold weather.
"The biggest problem here is really a livestock issue," adds Lerner. "From the livestock perspective, we're going to have these animals subject to it's something significant cold rain and snow, which in any kind of environment is always tough on them. Just to two or three days ago, the temperature was 108 degrees in Colorado. So, in some of the winter wheat production areas there and some of the cattle in that region are just totally stressed out by the sudden change from 100 plus temperatures down to freezing."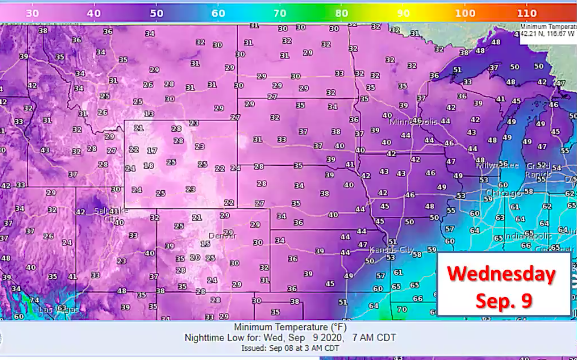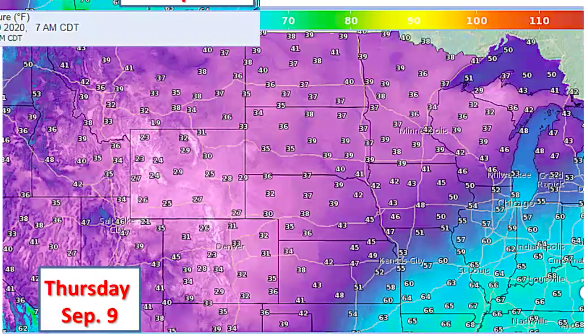 What Caused Winter Weather to Arrive Early?
Lerner is calling the sudden drop in temperatures a "very special case," saying a weather event in Asia sparked the winter weather in some areas.
"It is an anomaly to what we really expected to occur, and it was brought on by two very large typhoons that moved through Northeast Asia," he says. "I know you're thinking, 'how in the world does that impact us clear over here on this side of the planet?' But because these storms are so big, they transported so much warmth and moisture up and through Eastern Asia, that it created a big massive ridge of high pressure over the northwest part of the Pacific."
Meanwhile in Casper, Wyoming... pic.twitter.com/ePhvIzS83H — Taylor Kanost (@WxKanost) September 8, 2020
26°F and decreasing. Happy Tuesday everyone! pic.twitter.com/MW0jYBg45G — Beaver Creek Acres (@BeaverCAcres) September 8, 2020
You can see from this Real-Time Analysis of surface temperatures and wind, the push of cold air south and west across a good deal of the western US, while the front has stalled from Oklahoma, northeast into the Midwest.
What can you expect in your area? https://t.co/VyWINDk3xP pic.twitter.com/v9Qlx7Gsk9 — National Weather Service (@NWS) September 8, 2020
Lerner says in turn, that ridge of high pressure sparked a deep trough of low pressure to develop in the north-central part of the Pacific. The chain reaction then continued and resulted in a big ridge of high pressure to build in the Gulf of Alaska.
"Then, the Gulf of Alaska Ridge brought all that cold air down from the Arctic, and that's how we got to this point," he says. "If it wasn't for those two typhoons, we would not have seen this kind of intensity on the cold."
Is the Cold Weather Here to Stay?
Lerner says the good news about the weather anomaly this week is just that: it's an anomaly and won't be sticking around past this week.
"If we remove that from the equation, and because those two storms are gone, we will fall back into what was supposed to be happening, which is a warmer bias and a little drier bias for this particular autumn," he says.
Lerner adds the drier and warmer fall forecast is due to La Nina, as well as an 18-year cycle.  He says as those two factors work together, he expects a mild and drier fall, a forecast that could last into early winter. If La Nina becomes a significant weather event, Lerner warns the winter could turn colder than normal from December through March.
Related Stories: