Drought Monitor Reflects Minor Improvement Across Central and Southern Plains
According to the National Drought Monitor, 33.62% of the contiguous U.S. is drought-free, which reflects minor improvement from 33.16% last week. Minor improvement was made to the drought situation in Kansas, although some shifting in drought categories was noted in Oklahoma and Texas. While still completely covered by some form of drought, Oklahoma saw improvement in categories as 11.8% is now in "exceptional" drought, compared to 41.64% last week. In Texas, 5.17% is covered by "exceptional" drought, down from 7.89% last week.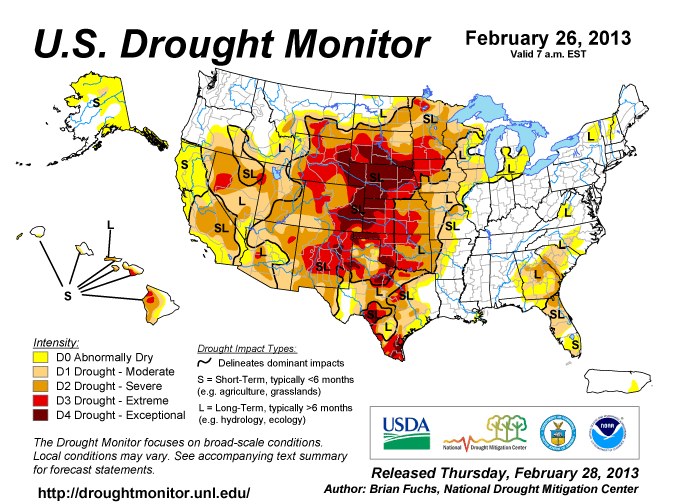 Regarding recent conditions across the Plains, the monitor notes: "Up to a foot of snow fell in portions of Nebraska this week and even more to the south in Kansas, Oklahoma and Texas. The precipitation amounts in Nebraska were generally less than 0.50 inches, and no improvements were made. In Kansas, D4 conditions were eased in the north central and south central portions of the state while D3 was eased in the northeast. In Oklahoma, much of the state saw a full category improvement as the combination of rain and snow from several events improved conditions. The improvements continued in the panhandle of Texas, where generally a full category improvement was observed. In Texas, drought areas were assessed in the southern and central portions of the state, leading to a mixed bag of improvements and degradation. In west Texas, the D0 and D1 lines shifted to the west."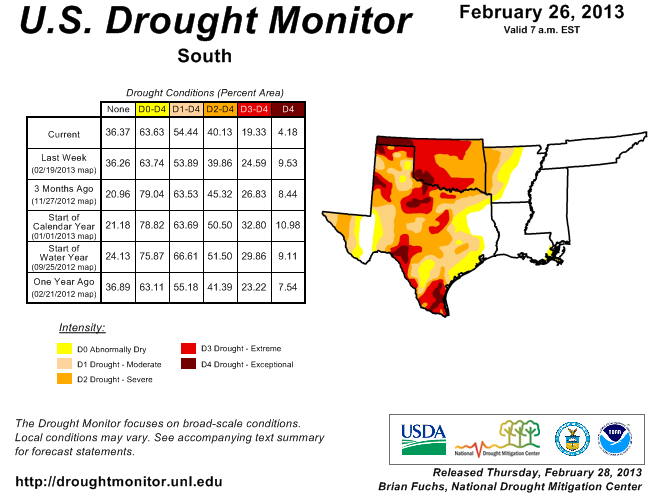 Across the Midwest, the monitor notes that snow and rain were common in the region from Missouri into Illinois. "Up to 3 inches of water was sampled out of the snows in Missouri. Some improvements were started in Missouri, and in the western part of the state, the full impact of the moisture can be assessed as the snow begins to melt and the response is observed," it states.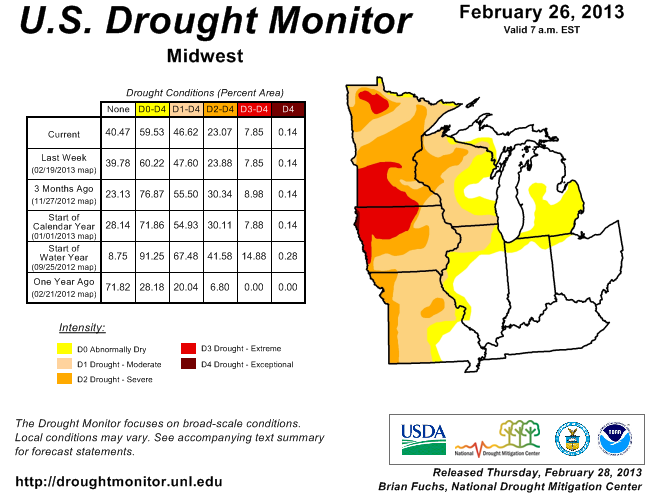 It its outlook for February 27 to March 3 the monitor notes that precipitation chances are limited to the Pacific Northwest and also from the Great Lakes up into New England. Amounts are generally in the 0.50 to 1.0 inch range in the Great Lakes to New England and up to 1.5 inches along the coast in Washington. Temperatures during this time look to remain well below normal for the eastern half of the country. Departures of 12 to 15 degrees below normal can be expected over the south with some above normal temperatures over the west coast.
---