USDA: Net Farm Income Up 28% in 2011
USDA forecast net farm income, which reflects income from production, at $100.9 billion in 2011, up $21.8 billion (28%) from last year. Meanwhile, net cash income, which only reflects cash transactions, is forecast to rise $17.5 billion from 2010 to $109.8 billion.
Crop receipts are expected to rise over 16% in 2011, reflecting large anticipated increases in prices, especially for hay, corn, wheat and cotton. Livestock receipts are expected to rise nearly 17%, led by strong prices for dairy and red meats, says USDA. "The 2011 forecasts, if realized, will mean record or near-record sales and price levels for many crop and livestock categories and represent substantial increases over last year," it states.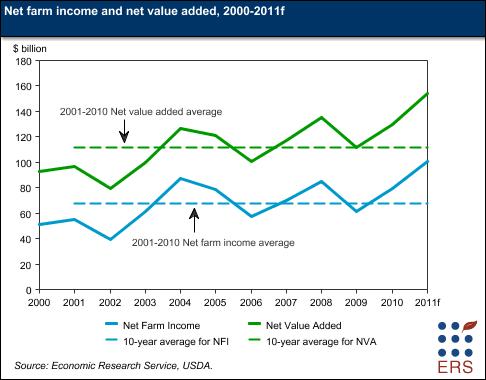 Following are additional highlights:
Net farm income is forecast to rise 28%in 2011, matching the increase recorded in 2010.
Net farm income and net cash income are both projected to exceed $100 billion for the first time in 2011.
USDA expects a more than 16% increase in sales of crop and livestock by U.S. farm operations in 2011, with gains spread out among many different categories.
Crop sales are expected to exceed $200 billion for the first time in U.S. history, with record or near-record levels across different crop categories.
Livestock sales are predicted to rise almost 17%, with double-digit increases across most categories, especially red meats.
Total production expenses are forecast to jump about $34 billion (12%) in 2011 to nearly $320 billion, driven by increases in input prices.
Government payments are forecast to be $10.6 billion in 2011, a 14.4% decrease from 2010.
---