U.S. Cattle Herd Continues to Contract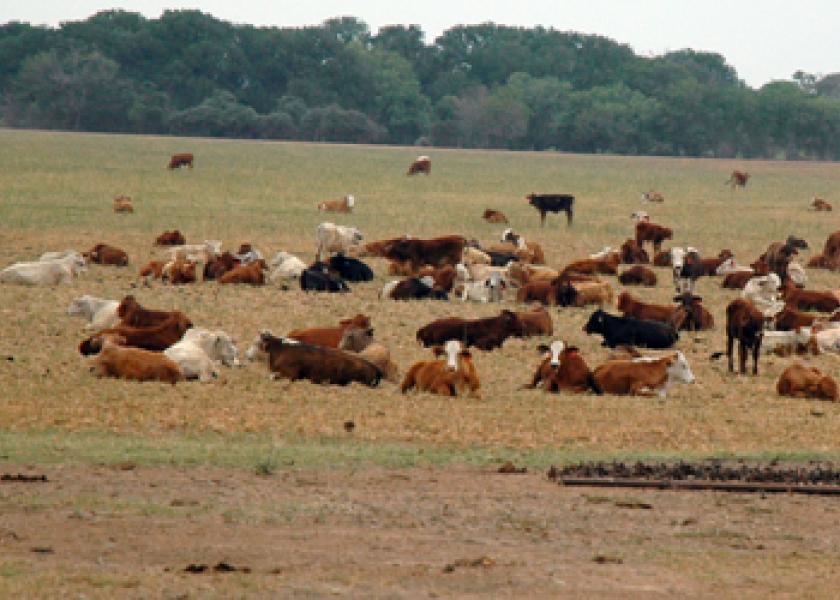 USDA released an annual livestock forecast today that calls a 3% decline in commercial beef production this year to 25.1 billion pounds as steer prices rise to record highs and the country's cattle herd continues its steady decline.
Shayle D. Shagam, livestock analyst for the World Agricultural Outlook Board, presented the forecast at the at the 2013 Agricultural Outlook Forum in Arlington, Va.
Shagam said that the livestock industry won't get relief from record-high feed prices until late in the year. Corn prices during the first three quarters are likely to average of $6.75 to $7.65 per bushel, according to USDA projections, compared with $6.22 in 2011/2012.
"Feed prices are likely to remain high through the summer of 2013," said Shagam, who held out hope of better pricing late in the year once new corn and soybean crops come in. USDA is forecasting much larger corn and soybean harvests this year as normal weather patterns should return.
Shagam expects feed prices to "decline sharply" later in the year. Corn prices during the fourth quarter are expected to fall below USDA's 2013/14 crop-year forecast of $4.80 per bushel. Soybean meal prices are forecast to average $300 per ton in 2013/14 with prices averaging lower in the early part of the marketing year.
But the prospect of lower prices later in the year isn't likely to stop a six-year reduction in the U.S. cattle herd.

"The U.S. cattle inventory is expected to continue contracting in 2013," said Shagam, attributing the decline mostly to a fall in the availability of forage. Given the forage situation, and a slight decline in the total number of heifers expected to calve during 2013, USDA expects a further decline in the calf crop this year.
USDA estimates the number of cattle and calves last year fell by about 2% to 89.3 million head. It estimates the cow herd at 38.5 million head, more than 2% smaller than a year earlier. And it has the 2012 calf crop at 34.3 million head, the smallest calf crop since 1949.
The small calf crop will lead to tighter cattle supplies moving into 2014 and to the extent producers retain heifers for breeding from the 2013 calf crop, it is unlikely that calf supplies could support an increase in beef production before 2016, according to USDA's report.
USDA forecasts that the rate of steer and heifer slaughter during the first half of the year will be virtually the same as 2012, but it may then decline sharply as feedlot inventories decline. It also expects cow slaughter to decline over 2012 levels as producers retain cows and breeding herd liquidation moderates. As a result, "total commercial cattle slaughter during 2013 is expected to decline almost 4%," Shagam said.
The slaughter decline will be partly offset by increased carcass weights. USDA forecasts that carcass weight will increase to almost 791 pounds in 2013 due to a combination of mild winter weather and increased adoption of beta-agonists that improve feed efficiency.
USDA forecasts that beef exports will fall only slightly in 2013 after a big drop of 12% last year. The Department forecasts 2.45 billion pounds of beef exports this year, down from 2.46 billion pounds in 2012. Sales, it says, to most major foreign markets will decline with the exception of China and Hong Kong. USDA attributes 2011's big decline to record U.S. beef prices and the relative strength of the dollar.
The government's forecast, however, discounts the impact of Russia's recent ban of beef imports that aren't certified as ractopamine-free. U.S. beef exports will shift to other markets because of the tight supply of beef available for export.
Meanwhile, the U.S. will continue importing more beef. 2013 U.S. beef imports are forecast to rise about 16% to 2.57 billion pounds, following an 8% increase last year. The sharp rise stems from improved economic growth in this country, coupled with reduced U.S. cow slaughter.
USDA expects steer prices in 2013 to set a new record, averaging $125 to $134 per cwt, up from 2012's record average of $122.86. "As fed cattle supplies shrink in 2013, prices are expected to continue to climb, but both packer and feedlot operations are facing poor to negative margins which will limit flexibility in price negotiations," says USDA's outlook.
In the meantime, USDA forecasts that feedlots will continue to face pressure as feeder calf supplies shrink and they are forced to pay relatively high feed prices until the new crop is harvested. Packers, on the other hand, may be limited in what they can pay, given resistance to high prices and competition from other meats.
"Although tighter supplies will likely pressure retail prices, increases may be limited compare to the past several years," says the annual outlook, which projects retail choice beef to average slightly above last year's record $5.02 per pound.
More coverage for USDA's Outlook Forum:
Low Prices Hit Farm Belt: Growers Get More Crop, Less Cash
Prices for corn and soybeans will fall this year on record production, easing food inflation while providing less cash for growers recovering from drought.
CME Concerned Over Sequestration Impact on Livestock Futures
The cuts could impact the physical delivery and cash settlement mechanisms of certain CME livestock and dairy products.
Sequestration Imperils Agriculture Programs, Vilsack Warns
The U.S. agriculture secretary delivered that message Thursday at his department's Agricultural Outlook Forum 2013.
USDA Economist: Sharp Drop in Commodity Prices Coming
Commodity prices will fall "significantly" in 2013 due to strong corn and soybean production in 2013, but the weather remains a wild card.
---