Out to Pasture: What's Wrong with VINs for Cattle?

It is now more than a year after the Eastern Livestock Co., LLC, debacle and if anybody has done anything meaningful to prevent a recurrence, I wasn't aware of it as this issue went to press.

You do remember the Eastern debacle, don't you? Eastern was the country's biggest livestock trader when it went under last winter. The company had been writing hot checks for thousands of cattle, while hundreds of cattle producers and supporting small businesses were left holding the bag. And it was a big bag: The bankruptcy trustee said this fall there were 550 claims filed for a "staggering total of $150 million."

It is quite the mess. The company's Packers and Stockyards bond will cover less than 3¢ on the dollar, and its bank claims a lien on the inventory. The inventory includes everything from cattle paid for with hot checks to contracts to deliver and receive, as well as cattle at feedyards that are unpaid for and just about everything in between. For an idea of the complexity, consider the image below, created by John Huffaker, an Amarillo, Texas, attorney who is currently buried in the mess.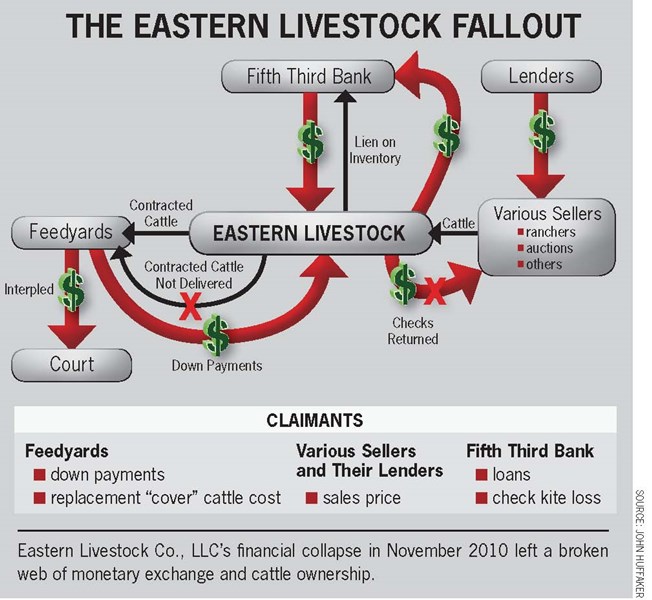 But we're not here to discuss the mess—we want to prevent such a nightmare in the future. The
National Cattlemen's Beef Association (NCBA) has a task force working on it that was scheduled to present a plan to the association's leadership last month. But it's a thorny problem.

Requiring some sort of immediate wire transfer payments might solve the problem for cowmen. But it doesn't offer the buyer a lot of protection against a producer being dishonest. He can give you a check made out to you and your bank, but how much paperwork must there be to make that foolproof?
Cattle VIN. Huffaker's slide was part of a presentation on "Pitfalls and Potholes" at the Texas Cattle Feeders Association (TCFA) convention. On the panel was Jay O'Brien, a former president of both TCFA and the Cattlemen's Beef Board, as well as an active rancher.

O'Brien, who gets few arguments when he introduces himself as a "curmudgeon," has a long record of saying stuff that might be considered outside the mainstream. His idea here: Require individual animal ID and use it like a vehicle identification number (VIN).

TCFA is on record as supporting a mandatory animal ID program. (Mostly to avoid problems like some of the members ran into with the Eastern bankruptcy. They didn't know who owned—or would pay for the feed and care of—cattle shipped in by Eastern and its buyers. This isn't the first time such things have happened.)

But TCFA is nearly alone in the idea. NCBA and other industry groups are wary of supporting mandatory individual ID programs. Too many ranchers think all they need to ID their cattle is their brand.

O'Brien argues that doesn't offer a buyer enough protection against shady characters. Most banks rely on little more than visual inspection to support borrowers' claims of ownership. Thus, a farmer with somebody's leased cattle on his place could—and don't think this hasn't happened—hock those cattle for a big loan he "hopes" to pay off with higher grain or cattle prices or a lucky run in Las Vegas.

That puts those cattle in a mess not unlike what's going on with Eastern now. Many of the plaintiffs will get "some" money "some" day, but it will take lots of time and lots of lawyers (not to mention bankers' forbearance for those with borrowed money).
A good argument to me. But if every calf, cow and bull had a unique number—a VIN, if you will—all stored in a central location like a USDA database, cattle owners would be protected against thievery, lenders would be protected against paper cattle and buyers would be able to check who really owns the cattle.

Nobody with a constituency wants to touch it. The bankers association has no policy. NCBA is hesitant to ask for anything that devalues hot-iron branding, and USDA got its fingers burned on its last effort.

We can get around that. Once there is a national database, it would work like this: I'd order 100 electronic ID tags for my 100 cows. The tag numbers go into the database, with a description of the animal and any brands or ear marks. When you buy my cows, you would (with my permission) query the database to ensure I own the cows I'm selling and there is no lien against them. Then you wire transfer me the money and we're done.

It makes sense to me, but I know a lot of cattle producers won't like it. I'm just not sure why.