Drought Improvement in Southern Plains, More Needed
This week's National Drought Monitor reflects the first meaningful rains across the central and Southern Plains in months. Significant rains (0.75 inch to over 7.0 inches) fell across an area from Kansas to central Texas. One category improvements were made across central Kansas and Oklahoma, with isolated areas of 2-category improvements across Texas. However, some areas received very little rain so the improvements were minimal in spatial extent.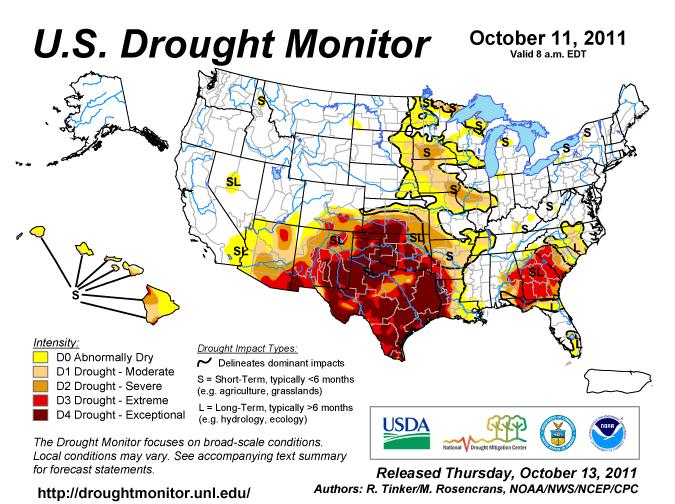 According to state breakdowns, Texas now has 73% of the state covered in the most extreme category of drought, an improvement from 88% last week. Still, 100% of the state is covered by a drought category, signaling much more rain is needed to end the long-lasting drought.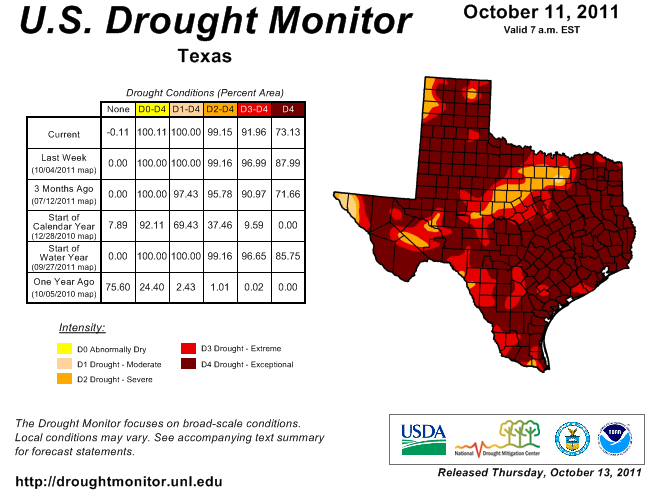 (click on image above for larger view)
Across Oklahoma, only Great Salt Plains Lake and Arcadia Lake showed any appreciable response to wide swatch of 3-5 inches of rain. Most of the rain was absorbed locally, with locations across the panhandle and farther east receiving little rain. Lubbock received 0.16 inch and now has deficits of 13.10 inches (normal is 16.26 inches for the year). "Childress reported over 1.5 inches but continues to have a deficit of nearly 14 inches. Aspermont, TX, in Stonewall County, received over 2.75 inches. A few of the West Texas Mesonet sites had modest soil moisture in the upper part of the profile, but of the rainfall was absorbed by the soil and did not contribute to significant run-off to recharge streams and lakes. The biggest beneficiaries to this week's rains would be pastures, ranges, and winter wheat," states the monitor.
In its outlook for October 13 through 20, the Climate Prediction Center says early in the period, a pair of storm systems will generate widespread, locally heavy showers from the Midwest and Mississippi Valley into the mid-Atlantic and Northeast, with lighter showers falling across the Gulf Coast and Southeast. Over the weekend, breezy, cooler conditions will settle over much of the eastern U.S., while a weak Pacific disturbance will bring light rain -- and perhaps even some wet snow --to northern portions of the Rockies and Great Plains. Elsewhere, high pressure will maintain dry, increasingly warm weather from the central and southern Pacific Coast into the central and southern Plains, including the Four Corners Region.
---
Juli says: While more rains are needed and some are in the near-term forecast, it is going to take a lot of rain to erase the long-lasting drought in Texas. However, rains are encouraging planting and emergance of winter wheat and may be encouraging for cattle producers. We'll be watching weekly slaughter data to see if cow slaughter begins to decline.