Market Highlights: Uncertain Cattle Market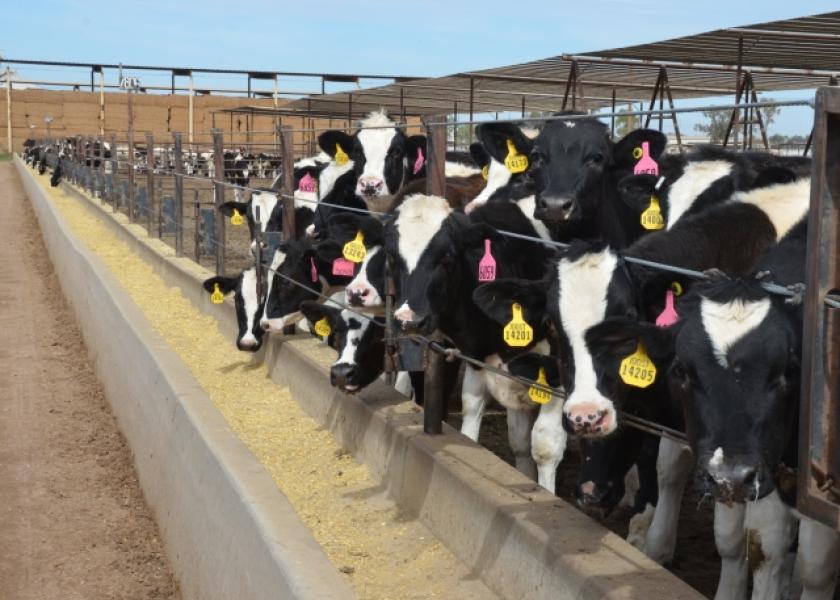 By: Andrew P. Griffith, University of Tennessee

FED CATTLE: Fed cattle trade was not well established at press. Asking prices in the South were around $140 to $145 while asking prices in the North were near $208. The 5-area weighted average prices thru Thursday were $130.00 live, up $6.80 from last week and $207.10 dressed, up $8.54 from a week ago. A year ago prices were $168.67 live and $263.81 dressed.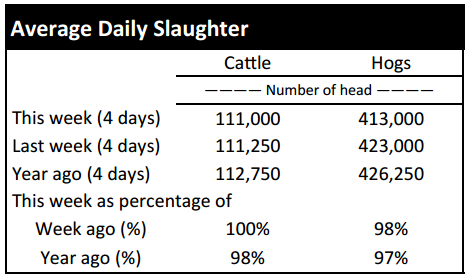 Uncertainty is rampant in the fed cattle market. Cattle feeders are clinging to the upswing in fed cattle futures with higher asking prices. Alternatively, packers are hesitant to jump on higher prices due to another potential collapse in boxed beef prices which would send packer margins deep into the red. Thus, packers continue countering with lower bid prices.

There is no doubt that fed cattle prices still have some upside this fall, but the uncertainty rests on how high prices can go and how far will they fall once they reach their fall apex. The decline after the late year price surge is most likely what creates the most angst amongst market participants. Cattle feeders have to get cattle bought 'right' or they could be looking at lots of red ink.
BEEF CUTOUT: At midday Friday, the Choice cutout was $217.04 down $0.43 from Thursday and up $5.83 from last Friday. The Select cutout was $210.89 up $1.02 from Thursday and up $4.72 from last Friday. The Choice Select spread was $6.15 compared to $5.04 a week ago.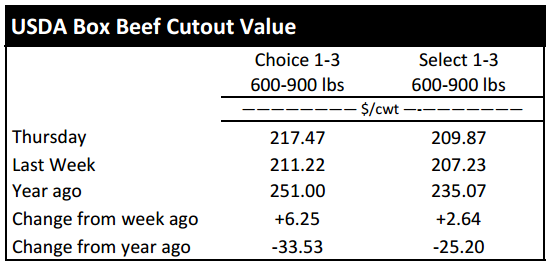 Boxed beef prices continued their rebound this week, but it seems to be an artificial market with varying degrees of manipulation. Packers have to push beef prices higher as fed cattle prices escalate or they run the risk of negative margins. Negative margins would not be a new phenomenon for packers, but it is not a desirable situation.

One indicator of a misleading market is the amount of beef in cold storage. The September Cold Storage report was released by USDA-NASS on Thursday and it reported beef in cold storage was up more than 31 percent from the same month one year ago. Last year's September beef in cold storage number was relatively low, but the 2015 number still set a record for September.

Similar to beef, pork in cold storage is up more than 19 percent from a year ago while chicken in cold storage is up nearly 28 percent compared to the same month one year ago. The relatively large quantity of meat protein in cold storage could pressure beef prices in coming months as the meat comes to market.
OUTLOOK: There was a large positive price swing for steer and heifer calves a week ago based on the Tennessee weekly auction average. The positive movement continued this week but the magnitude was much smaller and was in the $2 to $6 range. The upward price swing was expected to some degree, but the magnitude of the price rebound was less certain. This week's increase in prices seems to indicate that prices will find it difficult to strengthen further.

There could be some slight price increases from current price levels, but the upside will be limited as fundamentals will weigh against the calf market. Producers have been slowly bringing calves to market but many of the marketings were delayed due to the price decline during September and early October.

Expectations are for cow-calf producers to begin bringing freshly weaned calves to town the next few weeks which will pressure prices. The fall run of calves generally places downward pressure on lightweight calves in the fall. The past two years, calf prices in the fall were higher than same weight calf prices in the spring, but producers should not expect that to happen this year as seasonal tendencies appear to be in full control. Price seasonality is introducing itself back into cattle markets for the first time since 2012.

Price seasonality is not only reintroducing itself back into the calf market but also in the slaughter cow market. Utility cow prices in Tennessee averaged better than $100 per hundredweight from July 2014 through August 2015 with the exception of one week. Prices for those utility cows are currently in the $70 to $80 range and may continue to soften. The signs of price seasonality may also be ushering in the first signs of the long forgotten cattle cycle.

It will take a while for the industry to know if the cattle cycle is back in play, but it is probably a safer bet to say the cattle cycle will return rather than it to totally disappear. Producers should not expect any large price increases in the calf or cow market through the fall. It will probably be 2016 before prices find enough footing to make another strong run. Additionally, producers should not expect 2016 prices to be as strong as 2015 prices.

The October cattle on feed report for feedlots with a 1000 head or more capacity indicated cattle and calves on feed as of October 1, 2015 totaled 10.22 million head, 2.3% higher than a year ago, with the pre-report estimate average expecting an increase of 1.8%. September placements in feedlots totaled 1.93 million head, down 4.1% from a year ago with the pre-report estimate average expecting placements down 6.1%. September marketing's totaled 1.64 million head down 2.4% from 2014 while the pre-report estimate expectation was down 2.3%. Placements on feed by weight: under 700 pounds down 15.4%, 700 to 799 pounds down 4.1 %, and 800 pounds and over up 7.8%.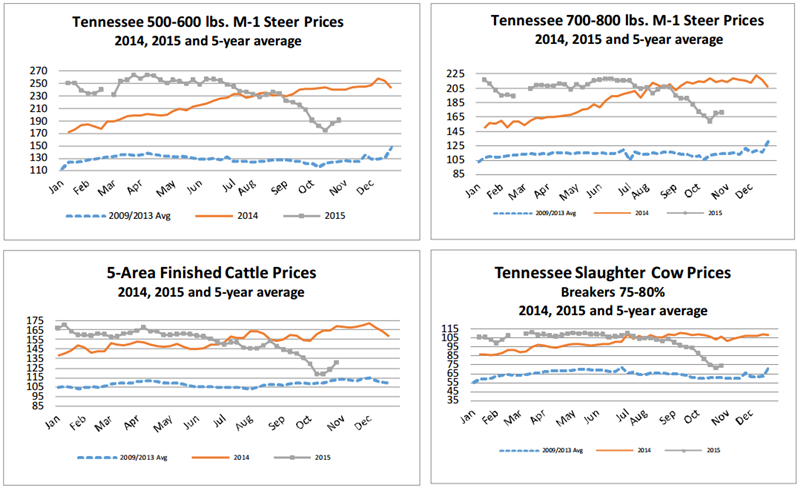 ASK ANDREW, TN THINK TANK: As a follow up to last week's question concerning why cattle feeding is concentrated in the Plains States and the Midwest, Bill H. informed me that financing ability had a lot to do with feeding in Iowa and Eastern Nebraska. Many feedlots in that part of the country are farmer/feeders and they traditionally financed the cattle purchase by borrowing against high valued land. This structure provided a lot of equity to borrow against and it protected the lender as well. Bill then reminded me about the crash in grains in the 80's which sent land values plummeting and thus cattle staying in more temperate climates in the South. The shift back to the Midwest came as land values crept back and the ethanol boon in the mid 2000's. 
Please send questions and comments to agriff14@utk.edu or send a letter to Andrew P. Griffith, University of Tennessee, 314B Morgan Hall, 2621 Morgan Circle, Knoxville, TN 37996.
FRIDAY'S FUTURES MARKET CLOSING PRICES: Friday's closing prices were as follows: Live/fed cattle –October $140.73 0.30; December $143.35 -0.40; February $144.90 -0.35; Feeder cattle - October $194.88 -0.68; November $192.48 -1.78; January $184.70 -1.60; March $181.00 -1.43; December corn closed at $3.80 up $0.02 from Thursday.