Market Highlights: Hot Weather Could Cool Beef Market
Hot temperatures may drive down prices.
By: Andrew P. Griffith, University of Tennessee

FED CATTLE: Fed cattle traded steady on a live basis compared to a week ago. Live prices were mainly $150 to $152 while dressed trade was mainly $240. The 5-area weighted average prices thru Thursday were $151.43 live, up $0.07 from last week and $240.27 dressed, up $0.23 from a week ago. A year ago prices were $155.99 live and $247.22 dressed.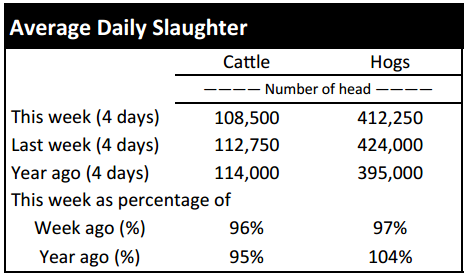 Feedlot managers were able to maintain prices during a week where the rest of the beef and cattle complex were forced into losses relative to the previous week. July is generally a tough month for both live cattle and beef prices as supply of live cattle is high and consumers have a reduced interest in grilling steaks and hamburgers in 90 degree plus temperatures.

When the market heads south, the question always arises as to how low will the market go and when will it turn around. It will be difficult for the market to move much lower considering it is already $20 per hundredweight off its yearly high.

There is potential for a few more dollars to be lost, but the likelihood of prices disintegrating is very small. Live cattle prices will rebound this fall, but it would not be wise to expect them to exceed last fall's peak price.
 
BEEF CUTOUT: At midday Friday, the Choice cutout was $239.03 down $0.69 from Thursday and down $15.50 from last Friday. The Select cutout was $236.04 down $0.54 from Thursday and down $8.38 from last Friday. The Choice Select spread was $2.99 compared to $1.85 a week ago.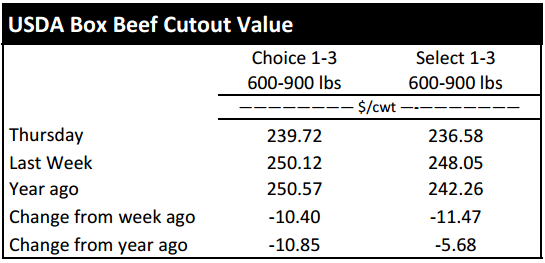 There is no doubt the beef market has succumbed to the dog days of summer as cutout prices have simply collapsed following Independence Day. The fall in the beef cutout price is going to cut packer margins deep unless they are able to find a way to secure fed cattle for lower prices.

Based on the World Agricultural and Supply and Demand Estimates (WASDE) released by USDA today, beef production in 2015 is forecast to be 23.82 billion pounds which is 0.5 percent higher than the same report one month ago. The report also shows the expectation that 2016 beef production will be 4.3 percent higher than 2015 production.

At the same time, pork and poultry production are both expected to increase through 2016 which could result in struggles for packing facilities as they try to market meat proteins. The same report noted a decrease in exports and increase in imports in 2015 relative to 2014. However, expectations for 2016 are for imports to decline 12.7 percent to 2.995 billion pounds and exports to increase 3.0 percent to 2.51 billion pounds relative to 2015.
OUTLOOK: Calf, feeder cattle and slaughter cow prices trended lower this week throughout the state and across the nation. It seems most markets are working against the feeder cattle market at this time as corn and soybean prices continue to escalate while live cattle prices continue to falter.

The 150 day live cattle crush spreads for 200 head which include two corn contracts, three feeder cattle contracts and six live cattle contracts have improved slightly with the decline in feeder cattle prices, but the margins remain too tight to "guarantee" a profit.

The cattle crush spreads through the end of the year appear to be somewhat favorable for feedlot operators but 2016 is looking dismal at best. With that being said, feeder cattle prices will likely continue to meet resistance the next several months unless live cattle prices rebound and feed prices moderate.

The cost of the feeder animal is the largest expense for feedlots. Thus, it makes sense that the first place to start cutting cost is in the most expensive input. Price risk management strategies are often discussed in this market update, but there are some production and management strategies that can be used to protect price and profit margins.

One of these strategies is to produce and market high quality feeder cattle that will grade well when marketed on a dressed basis. Cattle grading high Choice and Prime receive premiums over Low Choice and Select grade carcasses. A large portion of quality grade is dependent on genetics. However, cattle must be managed correctly for the calf to exhibit its marbling potential.

This is a much larger subject than can be discussed in this short article, but we do have a program, the Tennessee Beef Evaluation, where producers can retain ownership of cattle through the feedlot and then receive data back concerning feedlot performance and carcass characteristics. Slaughter cow prices have also begun slipping, but this comes as no surprise considering slaughter cow prices typically struggle this time of year.


ASK ANDREW, TN THINK TANK: A recent question was posed to me concerning marketing calves through marketing alliances. In essence, the question was "Are buyers still willing to pay more for preconditioned calves with a solid health program given prices are so high?" The answer is a resounding yes. Backgrounding operations and feedlot managers are still willing to pay up for low risk cattle. Actually, buyers appear to have an increasing preference for lower risk cattle the higher prices go. It may seem counterintuitive that this is the case. However, as the value of a calf increases so does the cost of death loss. Death loss rates are no different today than they were three years ago, but calf prices have increased about 70 percent or $500 per head. Thus, if the margin is $100 per head then it takes five more animals in today's market relative to the market three years ago to make up for one animal that dies. The gains come from reduced mortality, morbidity and performance which all cost the buyer something.
Please send questions and comments to agriff14@utk.edu or send a letter to Andrew P. Griffith, University of Tennessee, 314B Morgan Hall, 2621 Morgan Circle, Knoxville, TN 37996.
FRIDAY'S FUTURES MARKET CLOSING PRICES: Friday's closing prices were as follows: Live/fed cattle –August $147.48 -1.00; October $150.33 -1.48; December $151.83 -1.03; Feeder cattle - August $211.55 -0.20; September $209.98 -0.25; October $208.23 -0.33; November $206.78 -0.78; July corn closed at $4.27 up $0.06 from Thursday.