JBS Fined $50,000 for Incorrect Recording of Carcass Weights, Grades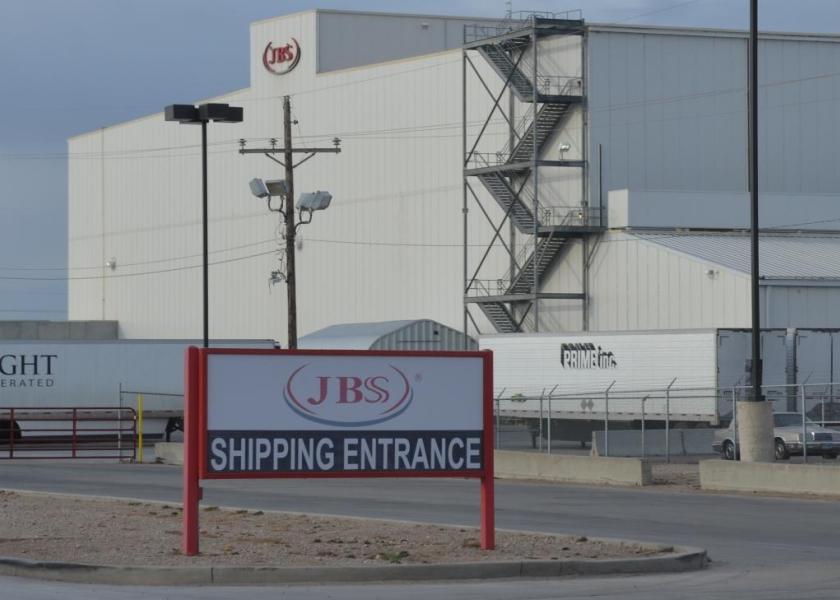 A civil penalty of $50,000 has been assessed to JBS USA after alleged violations of the Packers and Stockyards Act via inaccurate reporting of weights and grades of beef carcasses.
In a press release from USDA's Agricultural Marketing Service (AMS) sent out on Dec. 14, the agency announced that a consent decision was reached with JBS USA Food Company, also known as Swift Beef Company (JBS Swift), regarding the violation. A decision was reached on Nov. 21 and signed by Acting Chief Administrative Law Judge, Channing D. Strother.
Through an investigation AMS found that JBS had not maintained the identity of beef carcasses at the packing company's Grand Island, Neb., facility. This resulted in prices for carcasses being paid out incorrectly because the weights and grades were not attributed to the cattle.
The inaccurately recorded weights, grades and prices for beef carcasses occurred from a period of December 14, 2017 through March 31, 2018.
Following notification of the violations, JBS immediately took corrective actions to adjust the tracking procedures and computer software for beef carcasses at the plant. The company also conducted a self-audit to determine the issues.
In a statement to Drovers, Cameron Bruett, head of corporate affairs for JBS, says the problem was a result of "an error in our carcass sequencing processes following a software change in early December 2017."
Subsequently, JBS mistakenly overpaid some cattle sellers and underpaid others during the 105-day period. Through the consent decision JBS did not seek reimbursement from the cattle producers who were overpaid. The beef packer will also send additional payments to the cattle sellers who were underpaid in that time.
According to JBS, fewer than 40 cattle producers were negatively impacted by the error and many of those producers have been reimbursed.
"While this technical error was unfortunate, we are confident that we have taken the appropriate steps to correct the issue and provide an equitable solution to affected livestock sellers," Bruett says.
In addition to paying back the impacted cattle producers, JBS was also assessed a $50,000 civil penalty. AMS sent the following order to cease and desist:
Failing to properly maintain the identity of each seller's livestock and the carcasses therefrom;
Failing, after determination of the amount of the purchase price, to transmit or deliver to the seller or his duly authorized agent a true written account of such purchase showing the number, weight and price of the carcasses of each grade (identifying the grade) and of the ungraded carcasses, an explanation of any condemnations and any other information affecting final accounting; and
Failing to maintain sufficient records to substantiate the settlement of each transaction.
Earlier this year JBS was assessed a similar fine for violations of the Packers and Stockyards Act at the company's Cactus, Texas, and Greeley, Colorado, beef packing facilities. In that case JBS did not maintain and operate its dynamic monorail scales to ensure accurate carcass weights on Aug. 9, 2016 at Cactus and on Dec. 1, 2016 at Greeley. JBS was ordered to pay a civil penalty of $29,000.
The two violations this year by JBS have been called a "gross mishandling" by the agriculture advocacy group Organization for Competitive Markets (OCM).
"It is like a thief stealing $5.00 and only being fined $1.00. Where is the incentive to stop stealing?" says Joe Maxwell, executive director of OCM.
In press release sent out by OCM, Nebraska cattle feeder Steve Krajicek says he calculated his loss at $30 per head or more.
"Unlike large feeders, small feeders are forced to sell over 100,000 head of cattle a week in the carcass," Krajicek says. "This translates to an overall cost to feeders forced to sell in the carcass of as much as $3,000,000 per week."