The world has changed a great deal since Andy Bishop grew up on a small farm in Kentucky, especially when it comes to managing health of livestock. Today, he runs 100 head of registered Angus cattle and 20,000 free-range, organic laying hens in two entirely different production systems.
Raising both has taught him a great deal about antibiotic stewardship – and producing food animals with and without the use of antibiotics.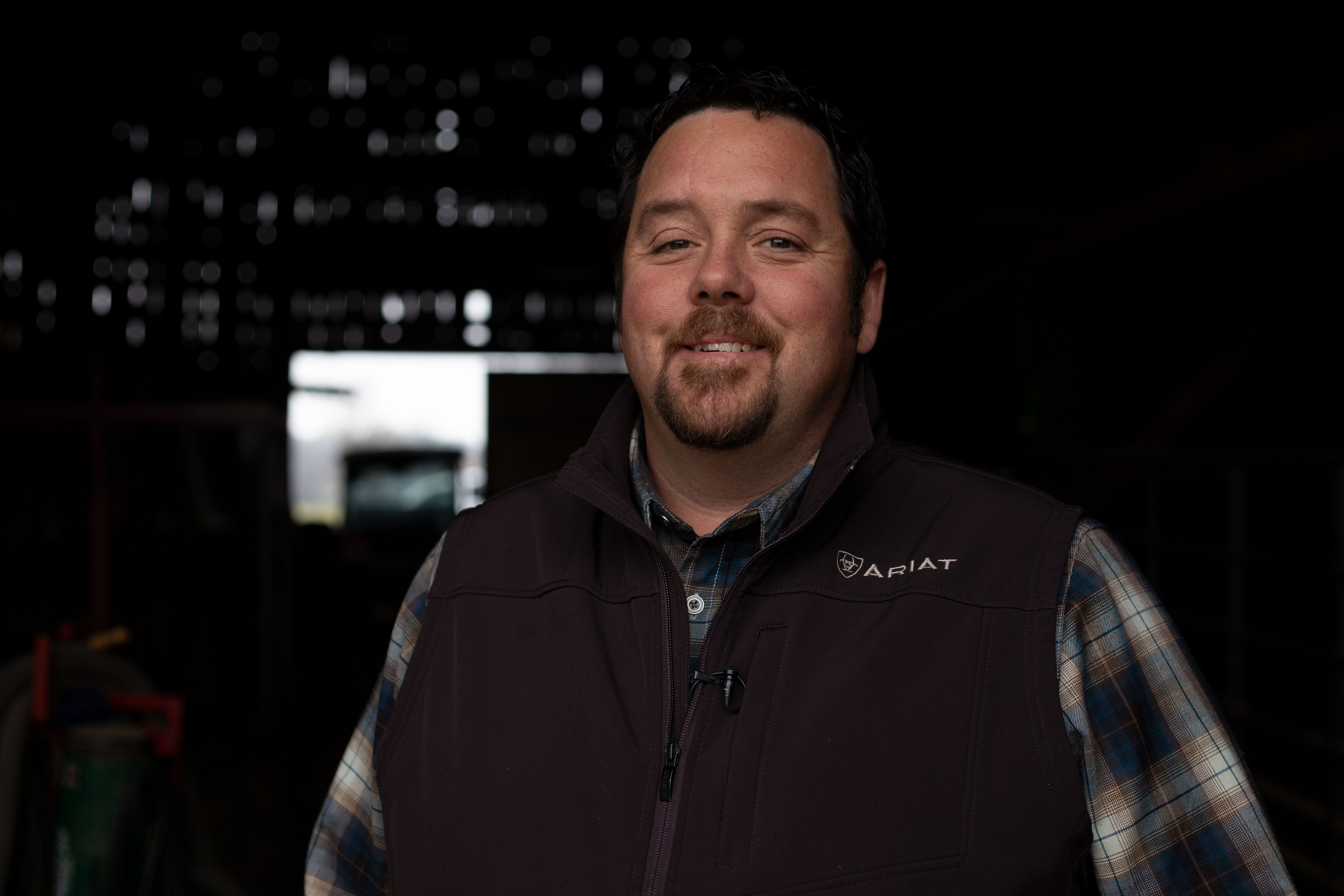 "There are two parts to that," Bishop says. "One, my cattle operation is a conventional cattle operation where we use antibiotics as needed. But we also use a vaccination program to prevent a lot of issues we may have. Now, on the poultry side of things, I have an organic laying operation, so we can't use antibiotics. So, I get to see both sides of the spectrum there. And I get to see the challenges you see with an organic operation and not having the tools in your toolbox such as antibiotics."
Bishop was one of several Kentucky cattlemen who participated in the National Institute for Animal Agriculture Antibiotic (NIAA) Symposium last fall in Ames, Iowa.
The event brought together producers, veterinarians and scientists to share ideas on how to protect both human and livestock health through improved antibiotic stewardship – a one health approach.
"The biggest thing is, as a producer, you go to a conference like that and you're accustomed to being in a room full of producers, and that was really different for me," Bishop says. "It was an eye-opening experience to see different views and beliefs across industries, where when you're in a room full of producers, you all have a common interest. We were much, much different in the mind-set of what we were trying to accomplish and the message we wanted to portray versus the message the other folks in the room wanted to portray."
That common interest has resulted in farmers and ranchers making substantial progress in reducing their use of antibiotics – and improving the health of their livestock. For instance, Bishop concentrates on preventing disease through the use of vaccinations and improved nutrition.
Bishop's efforts are not alone. According to the Food and Drug Administration, domestic sales and distribution of all medically important antibiotics used for livestock decreased 38% from 2015 – when sales peaked – to 2018.
That's evidence of good stewardship.
"I think we try to do the very best job that we can to help people understand that we judiciously use antibiotics," he says. "It's more of a vaccination program that we use stringently to make sure we don't have to use antibiotics. But when we do need them, they're very important and we're allowed to use those.
"When you talk to other industry professionals such as in the medical field, they have a negative connotation to what we do on the farm and how it affects human behavior. And there's big disconnect there at times," he says. "So, it was very important for us to be in that room to help share our story with what we're doing."
Conversely, participating in the symposium taught Bishop and others about concerns over antibiotic usage – and the lessons he learned at the meeting will no doubt benefit his management practices for years to come.
"It also makes you more cognizant of what we do on the farm," Bishop adds. "The next time that we go treat an animal, we may try to take its temperature instead of going straight to the medicine cabinet. Being able to think about those things is very important to ensure we're being judicious about our use of antibiotics. But also, the fact that we may be able to take a temperature and avoid using an antibiotic. At the end of the day, that saves me money and makes my operation a little more profitable."
 Learn more at kybeef.com or animalagriculture.org.