COVID-19, freeze risks, USDA report and government influence on agriculture are all weighing on the markets this week. ( AgWeb )
COVID-19, freeze risks, USDA report and government influence on agriculture are all weighing on the markets this week. July corn prices up 1¢ and July soybean prices up 1.5¢ for the week ending May 8. July wheat prices were up 6.25¢ for the week. 
"We just kind of stabilized here," says Jerry Gulke, president of the Gulke Group. "That's kind of good news since we had outstanding crop progress. It will lead some to believe we have maybe seen a bottom in this."
On Tuesday, May 12, USDA will release its monthly Crop Production and World Agricultural Supply and Demand Estimates (WASDE) reports. 
Gulke says a surprise is likely in store. 
"We know we've lost ethanol demand this year and possibly for next year," he says. "There's all kinds of questions and opinions on how long it'll take to get ethanol back and whether we'll ever get back to where we used to use that much ethanol."
So, will USDA reflect a dramatic crop in corn-for-ethanol usage in this current marketing year? Or will they kind of kick the can down the road?
The same questions exist for feed usage. "We're killing sows and pigs right now," Gulke says. "So, we know feed usage is down. The surprise would be as if the government doesn't reduce feed usage as much as the market thinks. Right now, it's very hard to find anybody who doesn't know this can be a really bearish report coming."
While ethanol and feed demand are suffering, at least soybean exports are positive, Gulke says. China has purchased significant amounts of soybeans from Brazil and the U.S., with plans to create a strategic reserve. 
"It looks like it could be a pretty friendly report in the beans, and we'd be lucky if the report wasn't very negative in corn," Gulke says. "A neutral-to-good report in corn would be if USDA keeps 2020-21 corn carryout at less than 3 billion bushels. It would be a miracle for that to happen."
Supply Control in Beef
COVID-19 continues to disrupt the food supply chain. For example, the beef industry has struggled in recent weeks with cattle harvest 30% to 40% below year ago levels. 
A proposal that would fund placing feedlot cattle on a maintenance diet for 75 days is being circulated in Washington D.C. 
The seven-page proposal, called a "Fed Cattle Set-Aside Program," would seek to "alleviate the risk of massive economic collapse in the beef cattle industry." The proposal was developed by the Beef Alliance and modeled after a set-aside program used in Canada after the BSE crisis in 2004.
"The goal would be to delay the rate of gain and flatten that curve, so to speak," Gulke says. "To me, if they hint about a set-aside program for livestock, they're essentially back in our back pockets again – managing supply control."
While this program is for the livestock industry, Gulke believes it could translate into grains. "You can probably bet if things don't look so hot and China doesn't fulfill their phase-one agreements, I wouldn't put it past Trump at all to do something in the supply control area."
That could be raising the loan rate, having a farmer-owned reserve, a set-aside program.
"I hope that doesn't happen, since it hasn't worked in the past. But you never know what can be done to salvage an election. That's where we're at now; it's all about buying votes."
A Threatening Weather Forecast
As of May 3, 51% of the U.S. corn crop is planted. That compares to a five-year average of 39% planted by early May, according to USDA. For soybeans, 23% of the U.S. crop is planted. That compares to a five-year average of 11% for early May.
Gulke has finished planting corn on his Illinois farm, but still needs to plant soybeans. "Believe it or not, in the first week in May it is just too cold to plant soybeans," he says. "It feels more like April 8 instead of May 8."
For the next few days, much of the eastern Corn Belt and northern U.S. are under freeze and frost warnings. (Read: Ken Ferrie: Crop Risk from this Weekend's Frost? 7/10)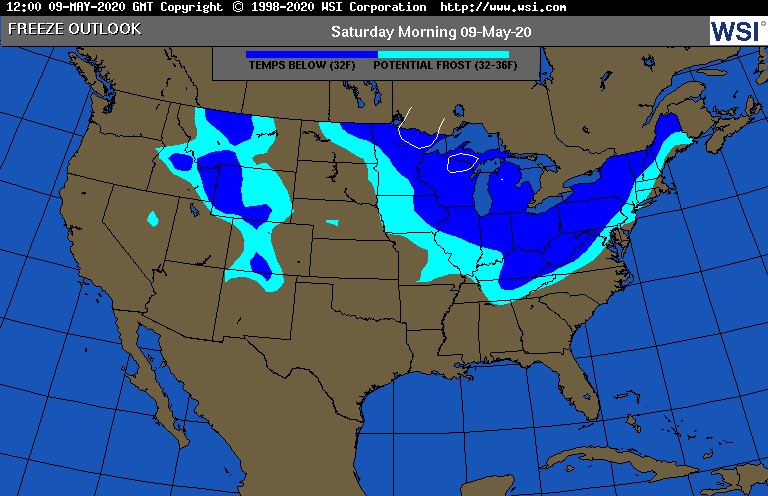 "The one thing I gathered from the weatherman is soybeans could get hurt," Gulke says. "If they're out of the ground, they'll get nipped and maybe killed. But you can replant them. We planted beans last year in July. You can replant this soybean crop a couple times and still maybe get an average crop."
Corn shouldn't be significantly hurt, Gulke says, but it could be set back a little. 
"Drew Lerner said the corn that's delayed could be in harm's way in July and August when it gets drier and hotter," he says. "But, I'm certainly five weeks ahead of last year. So, what could go wrong? People will certainly pencil in a record yield for this corn crop." 
---
Find more written and audio commentary from Gulke at AgWeb.com/Gulke
Follow comprehensive COVID-19 and agriculture coverage at AgWeb.com/coronavirus.
Check the latest market prices in AgWeb's Commodity Markets Center.
Jerry Gulke farms in Illinois and North Dakota. He is president of Gulke Group. Disclaimer: There is substantial risk of loss in trading futures or options, and each investor and trader must consider whether this is a suitable investment. There is no guarantee the advice we give will result in profitable trades. Past performance is not indicative of future results.