No one can go watch their cows and heifers 24/7, but SenseHub™ Beef can, according to Allflex® Livestock Intelligence. 

Why is this important? With better timing of estrus detection, more cows can be bred on time, improving conception and pregnancy rates. 

In a study at Colorado State University, animals were visually observed for standing estrus after administration of an estrus-synchronization protocol. Cows monitored 24 hours a day were compared to cows monitored at intervals during the day. 

By day 5 after estrus synchronization, 95% of animals monitored 24 hours a day were detected in standing estrus, while only 56% of animals observed for a half-hour twice a day were detected in standing estrus. To calculate this effect in your herd, visit www.Sensehubbeef.com to enter your estimated heat detection and conception rates into a pregnancy rate calculator.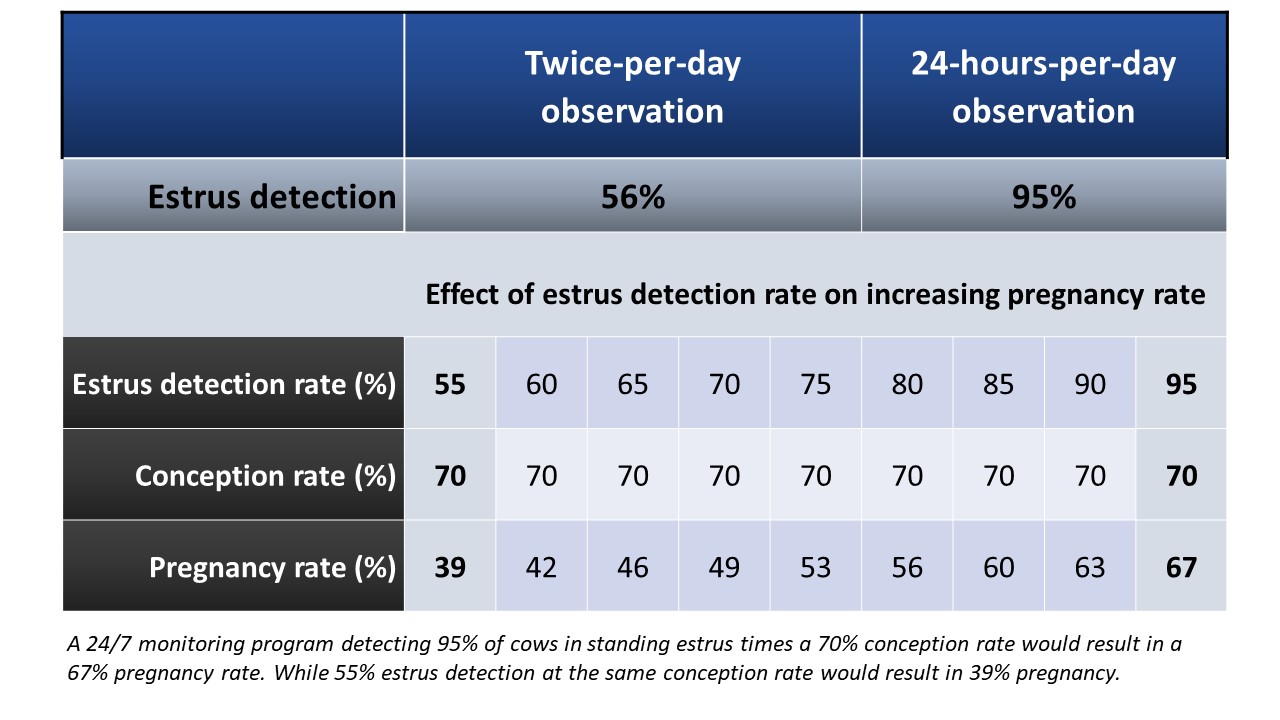 Monitoring done through continuous observation, or automatically with technology, can lead to higher rates of estrus detection and timely breeding, boosting pregnancy rates in managed matings. Observation at intervals may be less timely catching heats, especially so-called "night heats."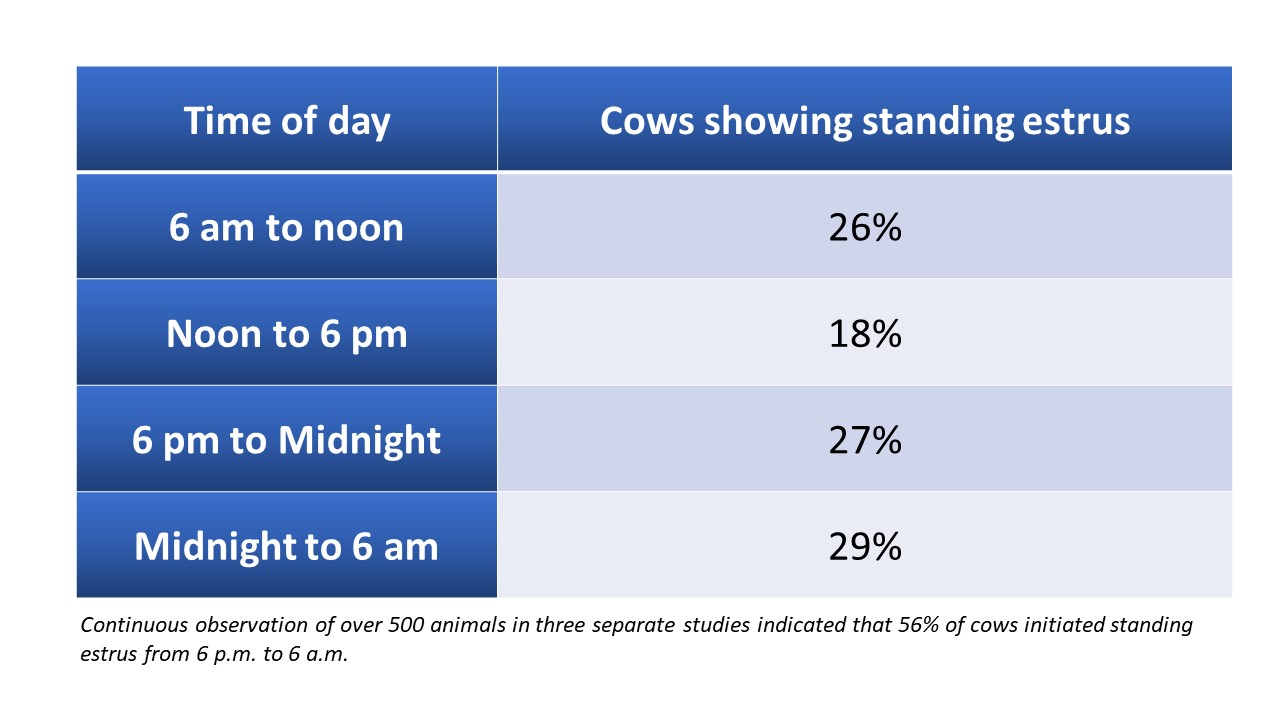 With SenseHub Beef, producers can take advantage of remote monitoring for 24/7 estrus detection. It also scores the intensity of estrus and offers an optimum breeding window for each cow tagged. These insights help producers detect more heats, catch "night heats" and be more efficient with time when observing cattle for estrus and breeding them.
Catching more first-cycle heats can increase early calving, tighten calving windows and result in heavier calves at weaning. It also is well-known that early calving cows are more productive in the herd. 

Impact on reproduction efficiency
U.S. producers have been able to increase reproduction efficiency in their cow herds. 

"I know exactly the onset of estrus and can pinpoint my breeding window. This has saved 4 to 6 hours per A.I. group, which frees me to manage breeding and calf health. My conception rates increased 8% in the first year and have been 5% above average in the last two years," said Reiss Bruning of Bruning Farms in Nebraska. 

"I am able to get the benefits of manually watching heats without having to commit the hours out of my day. I can also do bigger AI groups, which has helped narrow my first-cycle calving window by 10 to 14 days," Bruning explained.

Sam Shaw of Shaw Cattle Company in Idaho has had similar results. "We get our cows bred up better, as far as heat detection, managing labor and workforce, plus the health aspect. The added value is getting that early AI pregnancy or that ET calf in that recip. Increasing our conception rate and getting those heifers bred up right, instead of being bred by the clean-up bull or being open, that's value for us," said Shaw. 

Near real-time reporting 
Movements recorded can be tied to adverse changes in grazing, ration or feeding protocol and response to stress, heat, weather, dystocia, aborted pregnancies, predation or other issues.

For animal wellness, monitoring sends an alert to inspect an animal out of its normal pattern. This may help detect sick animals earlier, allowing for lower-cost medication or better response to treatment, and identify cows stressed by other factors. 

The dashboard has a simple look and basic design with alerts presented as a to-do list. The system also offers data visualization for producers who wish to zero in on details of rumination, eating, animal movement or heat activity.

SenseHub ear tags sense micromovements associated with key animal behaviors. The tags record and transmit data via field stations which then deliver alerts via an office computer or smart phone. Tags report data every 20 minutes, but also can hold information for 24 hours and then upload data when in range of a SenseHub field antennae, an easy-to-install box mounted on a post or structure. 

Just as farmers are using precision technology and remote sensors to manage labor shortages, beef producers also can make new use of ag-tech tools to make their lives easier and run their operations more efficiently. With SenseHub, monitoring cows from a smart phone helps the producer meet breeding program goals, improve timely follow up on herd needs and have more time to do other things.